Lily Cole is not your average airhead model, that much is clear.
it is clear that if all she wanted to do was to grace the covers of prestigious magazines, she could. She has been modelling since was spotted by fashion scout Benjamin Hart in Soho, when she was a gangly 14-year-old.

The first episode of Lily Cole's arts show concentrates on the work of Antony Gormley
Two years later, she was on the front of British Vogue, and her porcelain doll face has done wonders for such brands as Chanel, Louis Vuitton, Marc Jacobs and Prada. She's also appeared on the big screen - in St Trinians and The Imaginarium of Doctor Parnassus, better known for being Heath Ledger's very last film.
But... a business veteran already at 25, Cole has recreated herself again, with her first TV presenting role for Sky Arts. Not some glamour role spinning a wheel or introducing couples to each other, instead, a thorough examination of six leading artists, starting with Angel of the North favourite Antony Gormley, and including Christo, Tacita Dean, Marc Quinn and Fiona Banner.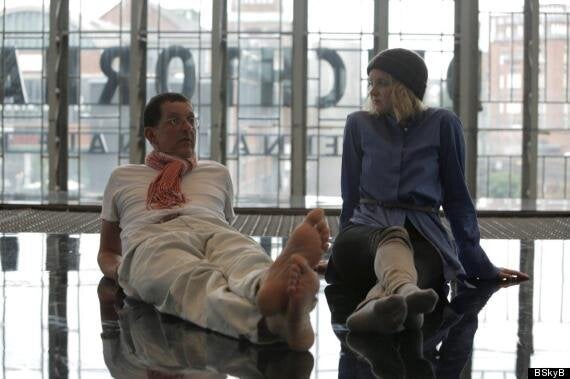 Antony Gormley and Lily Cole talk art, and lots of other stuff, in the first of Lily Cole's Art Matters
Is Cole qualified for this? Oh yes. Returning to Cambridge University after years on the catwalk, she graduated with a double first in History of Art in 2011. With Antony Gormley in the first episode, she draws comparisons between the way he uses his body for art and how she has used hers for her trade. And there is a time between lots of drawing and examples of technique for the artists to discuss their work and how their lives as artists pan out. All in all, if you can get beyond another celeb trying their hand at something 'deep', there really is a lot on offer here. A grand surprise.
'Lily Cole's Art Matters' begins tonight, Tuesday 19 March, on Sky Arts 1HD and Sky Go. Watch the trailer below...