The new Pope has called for protection for the world's poorest people at his inauguration mass.
"We must protect humanity, especially the poorest, the weakest, the least important, those who are hungry, thirsty, the stranger, those who are naked and in prison," he said.
Delivering his homily in Italian, he sad: "God does not want a house built by men; he wants faithfulness to his plan, and it is God who builds the house, but from living stones."
He appealed to "all those who have positions of responsibility in economic, political and social life, and all men and women of goodwill"
They should be "protectors of creation, protectors of God's plan inscribed in nature, protectors of one another and of the environment," he said.
"Let us not allow omens of destruction and death to accompany the advance of this world."
Up to one million people gathered in Rome for the spectacular ceremony.
Pope Francis smiled and waved at the crowds who had packed into sun-drenched St Peter's Square.
The Argentine, a surprise choice for Pontiff when he was elected by Cardinals on Thursday, was greeted by flags from his native country among the crowds. Huge crowds gathered for the inauguration
At one point, he climbed out of his open-topped popemobile to kiss a disabled man.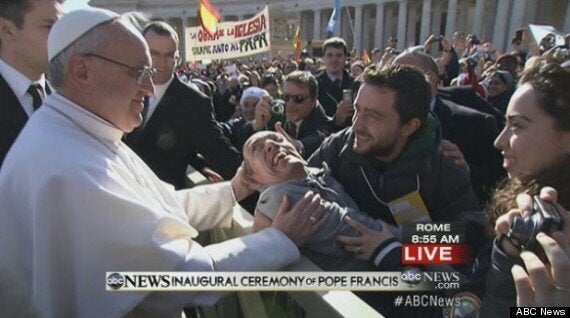 Pope Francis stepped off his popemobile to bless a disabled man in St. Peter's Square
Pope Francis left his temporary residence just before 9am Italian time and toured St Peter's Square, the BBC reported.
He visited St Peter's tomb to venerate it and received the "fisherman's ring", bearing the image of St Peter holding a pair of keys. Dressed in white, he smiled and waved at the crowds