Pervez Musharraf has kickstarted a return to Pakistani politics by ending a four and a half year exile and returning to the country.
The former president defied death threats when he flew into Karachi on Sunday amidst tight security, reports the BBC.
Musharraf was immediately taken from the airport by a convoy of armed guards despite large crowds gathered to greet him.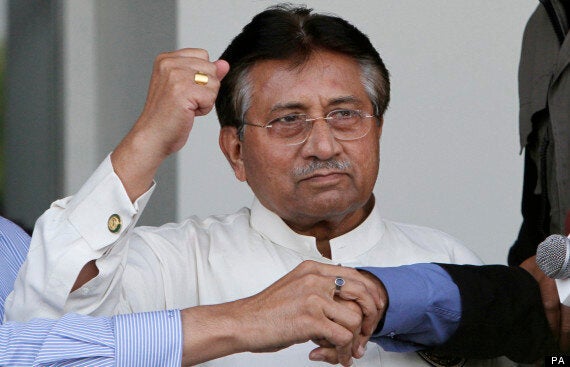 Musharraf gestures defiantly upon his return
Speaking at the airport he said: "The people ordered me to come back and save Pakistan. I have placed my life in jeopardy but I have returned.
"Where has the Pakistan I left gone? My heart cries tears of blood when I see the state of the country today," reports the Independent.
Speaking on Saturday the Pakistani Taliban vowed to send Musharraf "to hell" if he made a return, reports the Guardian.
"They expressed concern over my security and told me that I had many enemies back home. I told them that I have had enemies for the past 12 years," Musharraf told reporters.
"I am feeling concerned about the unknown... there are a lot of unknown factors of terrorism and extremism, unknown factors of legal issue, unknown factors of how much I will be able to perform."
Musharraf hopes to lead the All Pakistan Muslim League in the country's May elections.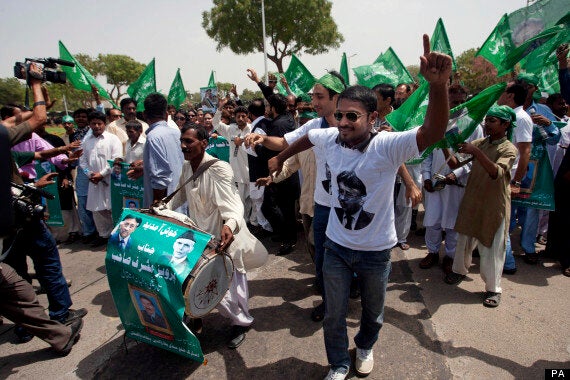 Supporters celebrate the news
He faces a number of challenges, not least the fact he is facing various judicial charges including corruption and conspiracy to murder.
Musharraf has been accused of not providing sufficient security for Benazir Bhutto in 2007 when she was assassinated by an explosion.
Authorities have granted him protective bail meaning he won't face immediate arrest.
Since being forced to leave Pakistan in 2009 the country has been mired in difficulties as the civilian leadership battles a faltering economy and an Islamic insurgency.
Only on Saturday night a suicide bomber killed 17 soldiers in the north-west of the country.
Pakistan is also attempting to negotiate an ever-rocky relationship with the US soured by drone strikes and how much the leadership knew of Osama Bin Laden's hiding place in the country.