Amanda Knox and her ex-boyfriend Raffaele Sollecito will face a retrial for murder, they were told on Tuesday.
The pair faces a lengthy legal process after their acquittals over the death of British student Meredith Kercher in Perugia, Italy in 2007.
Over the next few weeks Rome's Supreme Court will release full details of why it has decided to overrule the appeals court, which freed Knox and Sollecito after four years in custody.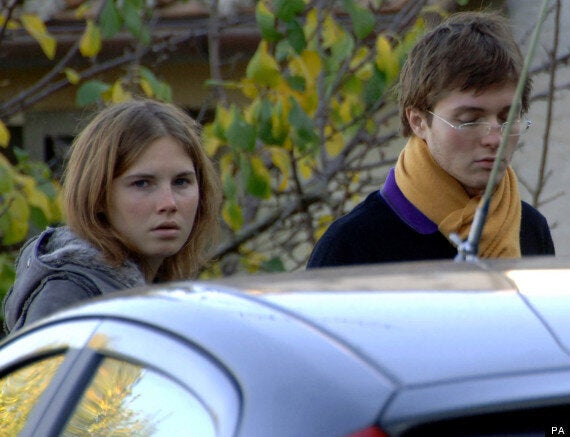 Knox and Sollecito in 2007 before their original trial
The original trial was criticised during the appeal process for inconclusive DNA evidence and failing to establish a motive for the killing.
The Supreme Court will outline why it does not agree with the ruling.
Knox and Sollecito's murder charge will be reinstated although they are not considered guilty.
A retrial will be heard in Florence, Tuscany, although Knox cannot be compelled to return to Italy under Italian law.
If a retrial finds Knox guilty, the Italian government can request her extradition from the US.
The US and Italy brought an extradition treaty into force in 1984, when Ronald Reagan was president.
The treaty obligates each country to extradite anyone charged with or convicted of an extraditable offence - or any offences punishable under the laws of both countries by a jail sentence of more than one year.
Italy must provide the US with specific documents to demonstrate they have "probable cause to believe" that Miss Kercher was murdered and Knox committed the offence.
Sollecito currently lives in Italy so will have no choice but to attend the retrial.
Rudy Guede, of the Ivory Coast, is serving a reduced sentence of 16 years in prison for sexually assaulting and murdering Kercher.
He was tried in a separate fast-track trial.
Meredith Kercher Murder Timeline
November 2: Miss Kercher, a 21-year-old exchange student from Coulsdon, Surrey, is discovered with her throat cut in her bedroom at her house in the Italian town of Perugia. Her body is partially clothed and under a duvet.
November 4: A post-mortem examination reveals evidence of sexual activity at some point before Miss Kercher died.
November 6: Police arrest Miss Kercher's American housemate Knox, then 20, Sollecito, then 23, and Congolese Diya 'Patrick' Lumumba, who runs a local bar. Police claim Miss Kercher was murdered because she refused to take part in violent sex. Knox is said to have broken down and confessed and implicated Lumumba. The three are held on suspicion of conspiracy to commit manslaughter and sexual violence.
November 9: Judge Claudia Matteini rules that the three suspects can be held for up to a year while the investigation continues.
November 11: Miss Kercher's body is flown home. Knox's mother, Edda Mellas, says Knox did not hear Miss Kercher's screams the night she died and was with Sollecito at his house.
November 15: DNA is reportedly found on a kitchen knife belonging to Sollecito, with Knox's DNA near the handle and Miss Kercher's on the blade.
November 19: A fourth suspect is named as Rudy Hermann Guede, 20, from the Ivory Coast. He is thought to have left Perugia for Milan after Miss Kercher died.
November 20: Guede is arrested in the German city of Mainz. Lumumba is released without charge.
November 22: Guede admits being in Miss Kercher's house on the night of the murder but says an Italian man he did not know committed the crime.
September 9: Guede's lawyers say he will ask to be prosecuted separately from Knox and Sollecito in a fast-track trial after talk of a possible pact between the former lovers to frame him.
September 16: All three suspects appear before a judge in the first of a series of pre-trial hearings in Perugia. Judge Paolo Micheli grants Guede's request for a fast-track trial.
September 26: Knox and Sollecito come face to face in a closed courtroom for the first time since being detained after the murder.
October 28: After 11 hours of deliberation, Judge Micheli sentences Guede to 30 years for the murder of Miss Kercher. He also orders Knox and Sollecito to stand trial for murder and sexual violence. Judge Micheli later rules that the pair remain in prison while they await trial.
January 16: The trial of Knox and Sollecito begins.
February 6: Sollecito tells the court he is not violent and has nothing to do with the case.
June 6: Miss Kercher's parents, John and Arline, give evidence. Mrs Kercher says she will never get over her daughter's murder.
June 12: Knox gives evidence in fluent Italian. She says she accused Lumumba 'in confusion and under pressure' and that a police officer hit her during interrogation.
November 21: Prosecutors ask for life sentences for Knox and Sollecito.
December 4: Knox and Sollecito found guilty of murder. Knox is sentenced to 26 years and Sollecito to 25. Knox's family say they will appeal.
November 24: Knox and Sollecito return to court in Perugia for their appeal.
December 11: Knox breaks down in tears as she makes an emotional courtroom appeal, saying she was the innocent victim of an 'enormous mistake'.
December 16: Italy's highest criminal court upholds Guede's conviction and prison sentence, which was slashed to 16 years in his first appeal.
June 27: Guede gives evidence for the prosecution in the appeal and confirms the contents of a letter he wrote to his lawyers in 2010, which included a direct accusation against Knox and Sollecito.
July 25: Experts tell the appeal court that forensic scientists who helped convict Knox made a series of errors. Evidence was tainted by the use of a dirty glove and failure to wear protective caps, they claim.
September 7: Appeal court rejects prosecution request for new DNA tests.
October 3: Knox is freed from prison after being acquitted of killing Miss Kercher. Sollecito is also cleared.
October 4: Miss Kercher's brother Lyle says her family accept the court's decision but says questions remain unanswered about what really happened.
April 29: Miss Kercher's father John appeals to Guede to finally "come clean" and reveal what really happened the night she was stabbed to death.
March 26: Italy's highest criminal court overturns the acquittals of Knox and Sollecito.
Popular in the Community