Everton Ladies forward Toni Duggan has revealed she'd strip off for magazines as it's "a good way of advertising the sport and healthy eating".
Speaking to The Huffington Post UK after Everton's FA WSL derby game against Liverpool Ladies on Saturday, the 21-year-old called for more to be done to show women footballers as personalities and role models to young women.
"David Beckham has made a living out of getting his kit off and through advertising products and his looks, so I don't see why there's a reason women can't do it as well," Duggan said.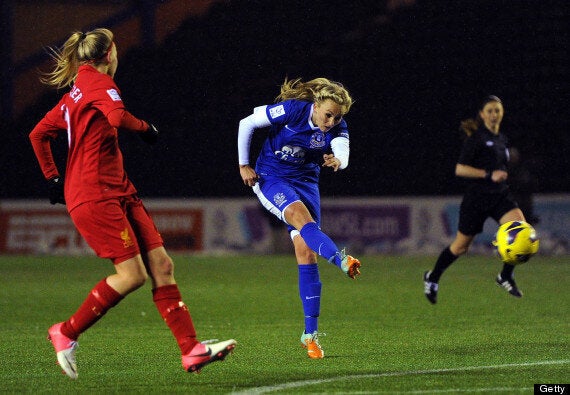 Toni Duggan in her blue Everton kit
She explained: "Personally I'm interested in doing things like that, but the other girls have different opinions on it.
"The girls don't want to be portrayed as that as they're footballers and they're good at football, that's what they do and why should they get their kit off to promote it?
"But on the other side I feel it's good because the young girls are used to seeing size 6 girls in magazines who aren't eating.
"So why not open it and see these other girls who do sport?"
The women's game is more popular than ever right now, after the London 2012 Olympics showcased the nation's best players as Team GB played in front of over 70,000 in their 1-0 defeat of Brazil at Wembley Stadium.
But rising star Duggan thinks more needs to be done to truly put players on the map, including showing their personalities.
She called for the media to do more than "maybe just one piece a year, on one player, who [readers will] probably never hear of again."
The 21-year-old added: "The media can do a lot for us and I do think it needs to step up a bit more and put us on the map."
Popular in the Community