Descendants of King Richard III have added their voices to the mini War of the Roses being fought over his final resting place, in a last ditch attempt to bring his noble bones back to York.
Since the crooked bones of the last Plantagenet King were unearthed beneath a Leicestershire car park, interested parties have been fighting to bring Richard back to his birthplace. However the Ministry of Justice has granted Leicester University permission to bury the bones.
They are challenging the licence on the basis of the human rights act, saying they should be have been consulted and failure to do so is a breach of Article 8 of the European Convention on Human Rights (the right to respect for private and family life), reported York Minster fm. They are being represented in their bid by Yorkshire law firm Gordons.
Currently plans are to reinter Richard in Leicester Cathedral in a tomb of "simple dignity" in the chancel. The first stage of the consultation is expected to finish in July, with work beginning on the tomb in January, 2014.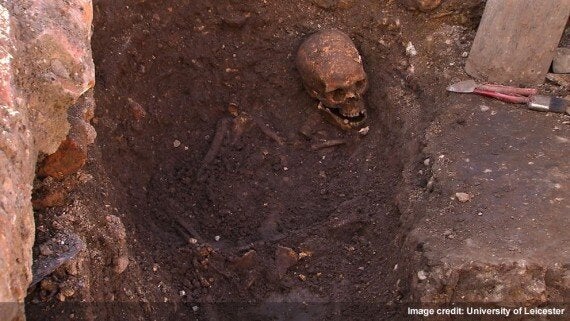 The cathedral is estimating the formal re-interment of the king's remains will take place in May next year, with a large memorial service.
Human remains were dug up in a council car park in Leicester city centre on the site of the old Greyfriars church last year. How Richard III looked (probably)
In February 2013, experts from the University of Leicester revealed DNA testing had positively identified the remains as those of Richard III, who fell at the Battle of Bosworth Field in 1485, bringing to an end the Wars of the Roses.
Sir Peter Soulsby, the Mayor of Leicester, said: "I can understand the move by the city of York because obviously where the remains are re-interred is a matter of considerable interest but in fact the decision is made.
"It is very clear in the licence given for the actual dig by the Ministry of Justice to the university."
He said Leicester cathedral was deciding where to lay the body and that members of the public would be able to view the grave following the interment ceremony.