"I just look at their lifestyle and think 'God I wish I could be a boy' sometimes," says Liverpool Ladies striker Natasha Dowie.
The 24-year-old niece of former Northern Ireland striker Iain Dowie is stooped over a plate of dubious looking lasagne following a 1-1 draw against her former team of five years, Everton.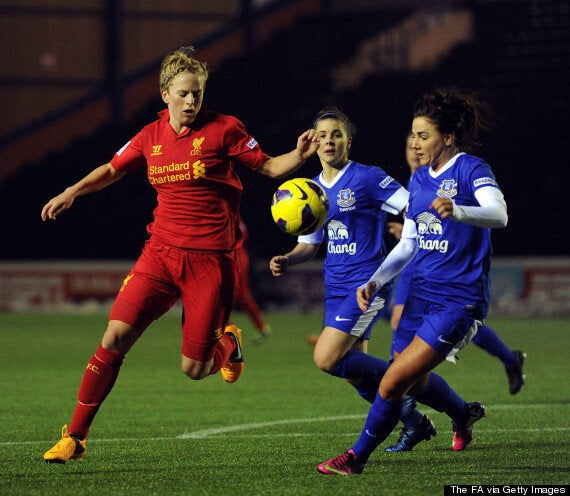 Natasha Dowie in red takes on her former team mates at Everton
Prior to the derby game at Halton Stadium on Saturday, Dowie and her teammates had prepared for the new season of the FA Women's Super League by training with Liverpool's first-team at Melwood - a first for both sexes, and for women's football in general.
It seems it has left Dowie with a taste for the high-life: "They just come in and have breakfast made for them, then they can go and train for a couple of hours, and then have steak, chicken everything.
"I was saying to the chef I'd be his best mate, I'd just be in the kitchen the whole time."
Joking aside, Dowie is keen to express her gratitude to her male counterparts: "The lads were brilliant, Sturridge, Gerrard and a few of the lads came and sat with us and just mingled at lunch.
"We all chatted and they were asking about what we do, they were really friendly."
But it's not just the Liverpool players who are now showing their support for the women's team. Liverpool boss Brendan Rodgers has urged spectators to take the women's game "more seriously" and managing director Ian Ayre has announced a "one-club mentality".
Liverpool have also put funding into the Ladies team, meaning they have a new-look squad after signing 12 players, including England international Fara Williams, and a new manager in Matt Beard as they look to end Arsenal's dominance in the women's game.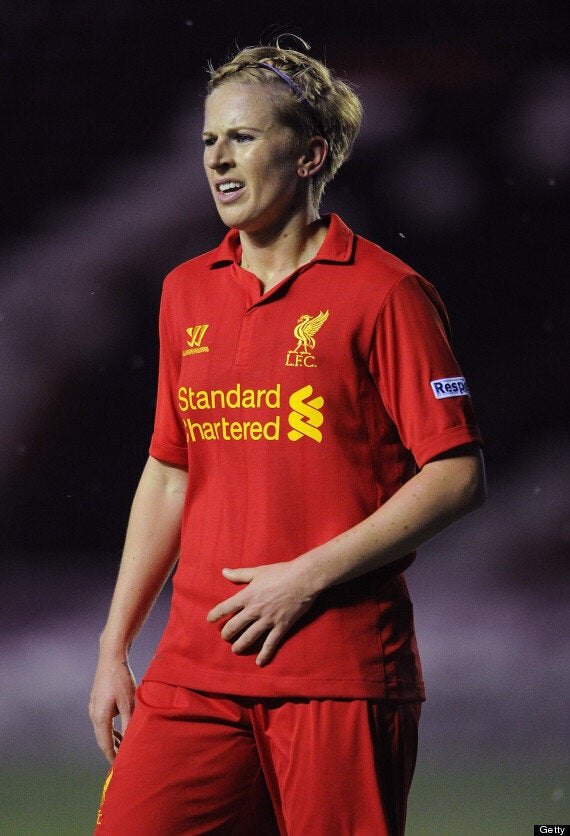 Dowie admits this has put "a bit of pressure" on them, but she's adamant they "want to give back what the club has given to [them]".
She's feeling confident enough too, despite feeling lost in translation occasionally.
"Player for player we are just as good as Arsenal, the only advantage they have is they've been playing together for so long.
"I'm playing with a German player who doesn't speak a word of English… it is quite hard with the language barrier, but eventually that will come."
A bold claim considering Liverpool Ladies have finished bottom since the FA WSL began three years ago, while Arsenal - the most successful club in English women's football, having won 38 major trophies to date - have finished first twice.
I wonder, now they've trained together, will the Liverpool Ladies see any of the male first team supporting them at their games? Surely that would help to bolster the local crowds...
"To be fair they do seem like they're interested, but maybe coming down to actually watch a game might be pushing it a bit.
"That would be lovely, maybe we could tweet them, you never know, if they had a little day off, maybe?"
What do you say, Gerrard?