North Korea has threatened a rocket strike on Guam, Hawaii and the US mainland, its state news agency has reported.
The country has put their military on combat 'ready' status, according to the Korean Central News Agency, KCNA, who stated: "The Korea People's Army top command declares that all artillery troops including strategic rocket units and long-range artillery units are to be placed under class-A combat readiness."
Guam is an American island off the Philippines where the US keep a number of military bases.
The threats came as South Korea marked the third anniversary of the sinking of the Cheonan warship, which killed 46 sailors. North Korea has long been the prime suspect for the deadly underwater explosion. South Koreans marked the third anniversary of the tragedy
Fresh UN sanctions imposed on North Korea after they conducted a third nuclear test blast underground in February have been matched with increasingly bellicose rhetoric from Pyongyang, including threats to Washington and Seoul.
The sanctions, voted on by the UN Security Council earlier in March, target North Korea's ruling class, placing bans on countries exporting luxury good to the communist state, including jewellery, yachts and luxury cars, as well as tightening financial restrictions.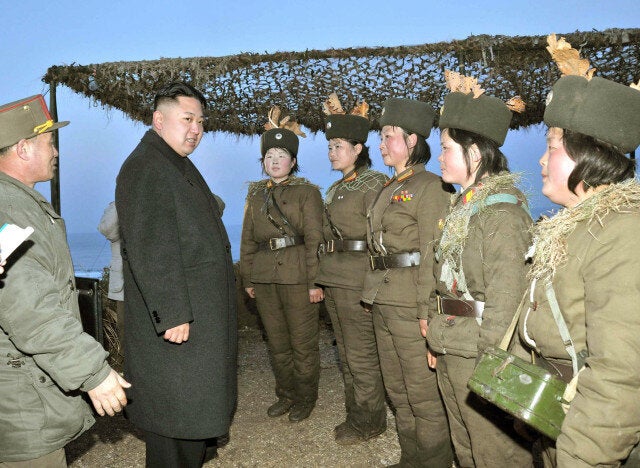 Kim Jong-un visited military units as the new threats were made
North Korea responded to the sanctions by "ending" the armistice with South Korea signed at the end of the 1953 conflict, shutting its shared border and closing its hotline with Seoul.
It also warned of a pre-emptive strike against "aggressors" and pledged to retaliate with "crushing strikes" to anyone who dared trespass onto their territory
At the time experts pointed out Pyongyang had a history of such rhetoric and while the US said it was taking the threats seriously they added they were "not unusual."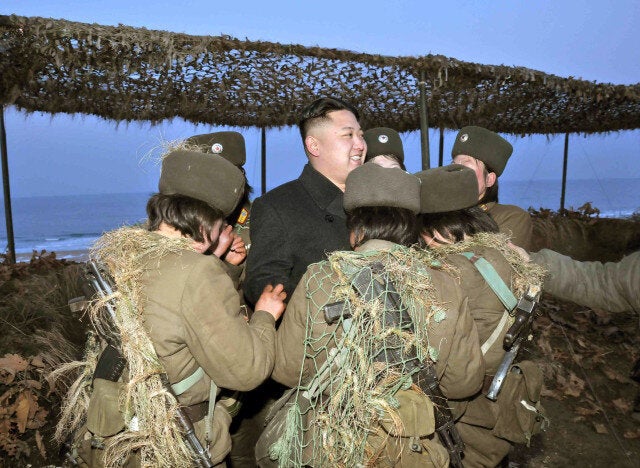 Pictures were released of Kim Jong-un being mobbed by female soldiers
Kim Jong-un is also reported to have watched the state army fire live artillery in a military exercise held close to the border less than two weeks ago.
Related