Famers and vets have heralded the potential of a new vaccine against foot-and-mouth disease which scientists say could be the "holy grail" of preventing another devastating outbreak.
The news will come as a crucial boost to the beleaguered agricultural industry, though a vaccine will not be available commercially for between six to eight years.
And the new synthetic vaccine could have a huge impact in the developing world, because it should eliminate the need for potentially dangerous live vaccines, which cost huge sums to store.
The new vaccine, which eliminates the need to use potentially dangerous live vaccines to immunise animals, has been developed by a team of British scientists at Oxford University and the Pirbright Institute. A farm in Lockerbie, the first in Scotland to be affected by the outbreak of foot-and-mouth disease, burns its cattle and sheep
Foot-and-mouth disease is one of the world's most prevalent and economically significant diseases, endemic throughout much of Africa, Asia and the Middle East. Three billion doses of the current live vaccine are administered each year, and the disease costs approximately £3.3 billion annually.
In the UK, over 6 million sheep and cattle were killed in 2001 in an attempt to halt the country's most recent outbreak. The estimated cost was £8 billion.
National Farmers' Union animal health and welfare adviser Catherine McLaughlin told HuffPost UK: "Foot and mouth disease is a disease feared by farmers the world over.
"In the UK compulsory culling of effected livestock, business disruption and restrictions and emotional trauma for farmers and their families accompany any outbreak, with effects felt long after the disease has been cleared. In less developed countries, where FMD is endemic, its very presence affects the viability of subsistence farmers and their communities.
"The announcement of this new methodology and vaccine potential is hugely exciting. Work by British scientists has already helped to rid the world of other notable diseases such as Rinderpest in the few years, and the potential to add FMD to that momentous list of eradicated viruses has just taken a huge step forward.
"While it is understood that it will be many years before this FMD vaccine can be a viable method of controlling a future FMD outbreak, the NFU commends the efforts of the research collaboration and congratulates all involved in proving yet again, that UK scientists are world leading."
Tim Bonner, director of campaigns for the Countryside Alliance told HuffPost UK: "Foot and mouth disease is devastating for farming and the countryside and the last major outbreak in 2007 had a huge effect on tourism, the countryside's biggest business.
"Any move to eradicate it will be welcomed in the rural community."
The new vaccine was developed using the Diamond synchrotron technology, which allows scientists to visualise something a billion times smaller than a pinhead and design the synthetic vaccine atom by atom.
Because the vaccine is synthetic, not made of a live infectious virus, it is much safer to produce.
Oxford University professor David Stuart, who helped develop the new vaccine, told HuffPost UK the new technique could have wide-reaching affects in developing new vaccines for human diseases, including polio and hand-foot-and-mouth disease.
He said: "What we have achieved here is close to the holy grail of foot-and- mouth vaccines. This work will have a broad and enduring impact on vaccine development, and the technology should be transferable to other viruses from the same family, such as poliovirus and hand foot and mouth disease, a human virus which is currently endemic in South-East Asia."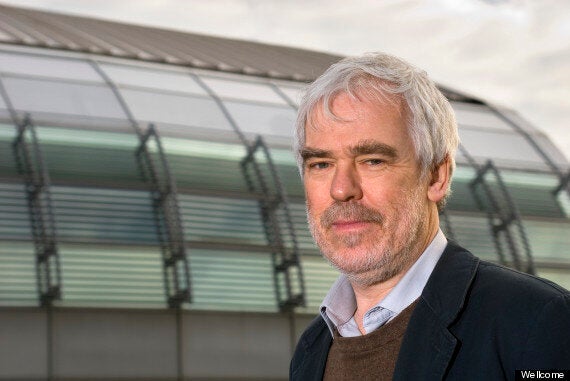 Professor Dave Stuart, one of the scientists behind the vaccine
Dr Bryan Charleston, head of Livestock Viral Diseases Programme at The Pirbright Institute, who co-developed the vaccine, said: "The ability to produce a vaccine outside of high containment and that does not require a cold storage chain should greatly increase production capacity and reduce costs.
"Globally there is an undersupply of the vaccine due to the high cost of production and this new development could solve this problem and significantly control foot-and-mouth disease worldwide."
Nigel Gibbens, the UK's Chief Veterinary Officer said: "This vaccine is a major breakthrough that has the potential to be an invaluable new weapon in the fight to eradicate foot-and-mouth disease.
"There are many more years of work and research to be done to get this vaccine ready for use, but this is undoubtedly an exciting leap forward.
"Once available, vaccines of this type would have clear advantages over current technology as a possible option to help control the disease should we ever have another FMD outbreak.
"This vaccine has been developed using some truly ground breaking techniques which are a credit to the quality of British scientists working in the field of animal health."
Related