'Game of Thrones' Season 3's premiere came to the big screen last night in London, amid excitement and fanfare more typically associated with a cinematic blockbuster.
Gwendoline Christie is Brienne of Tarth in 'Game of Thrones'
In testament to how this medieval fantasy epic TV series has captured the imagination of fans, hundreds of fans queued outside in hope of a seat at the screening, and the chance to spot their favourite stars, away from their usual robed, beaded garb.
What's in Season 3 Episode 1? Some hints below...
The lucky couple of hundred who squashed into the former church turned classy venue of One Marylebone were treated to the first episode of the new series, plus a Q&A session with several of the stars, who did their best to give nothing away of the forthcoming storylines.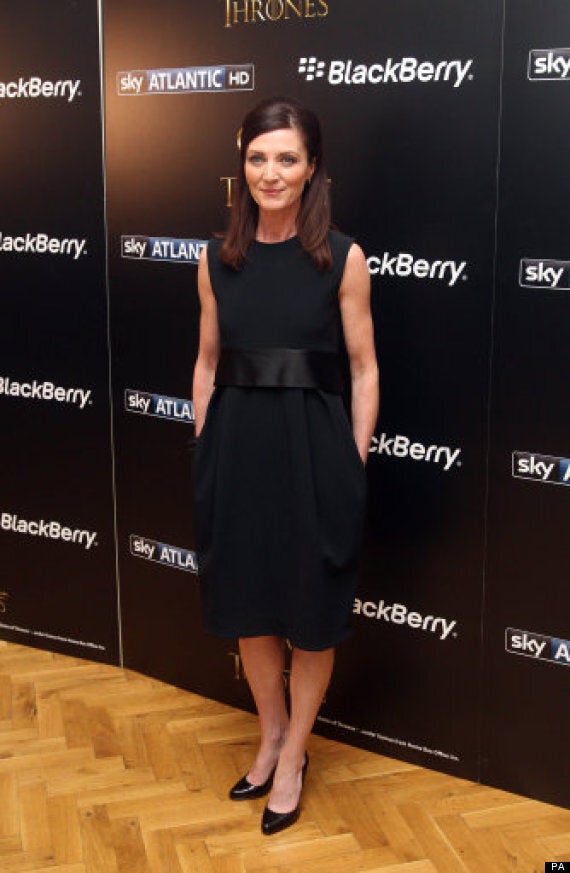 Michelle Fairley plays Catelyn Stark in 'Game of Thrones'
What can we tell you about the plot, without spoiling it for anyone who's already set their Tivo for the series debut next week? Hmmm…
The episode is called 'Valar Dohaeris', which mirrors the 'Valar Morghulis' of the Series 2 finale, and focuses on the aftermath of the almighty battle. It's dense in dialogue and scene-setting, more a foundation for the Series 3 to follow than a dramatic episode in its own right.
Meanwhile, if it's a story about family loyalty, this is being sorely tested on every front. Catelyn Stark, played by Michelle Fairley, is in the dog house with her son Robb Stark, after the events of Series 2, which saw her liberating Jaime Lannister, in the hope of freeing her daughter from evil Joffrey's grip. For her miscalculation or motherly duty, depending on which way you look at it, her son is intent on not just giving her his usual brooding look, but actually locking her up. No love lost between these two at the moment.
But over at King's Landing, the Lannisters are giving them a run for their money. Cersei can barely speak to her brother Tyrion, despite his military triumphs in Series 2. And when he goes running to his father Tywin for comfort, recognition and general solace, what does he get? Charles Dance's beady eye, and it made very clear that he will never be forgiven for being born as his mother died, and will remain the runt of the litter.
Two bits of good news for Tyrion... he's still got Bronn (Jerome Flynn) at his side, and actor Peter Dinklage is still stealing all the best lines. One example...
Tywin berates him at length for generally being a loser, a runt, a scoundrel and... "drinking with thieves and sleeping with harlots".
The perfect silent beat, and then... cue Tyrion: "Sometimes I drink with the harlots."
Give that man another Emmy, another Golden Globe... oh, go on, make it a throne.
Game of Thrones returns to Sky Atlantic HD from Monday 1 April at 9pm. Seasons 1 and 2 will also be available On Demand. Pictures of stars and admirers from the London premiere below...