A police force has defended its actions after coming under fire for shooting dead an "aggressive" Belgian blue cow in a primary school car park.
Lincolnshire Police said the cow posed a serious risk to the safety of residents after it became "increasingly distressed and aggressive" while on the run in Grantham on Monday.
Officers followed the cow, which had escaped from its field, and it was seen to jump fences and run towards them and members of the public during the incident.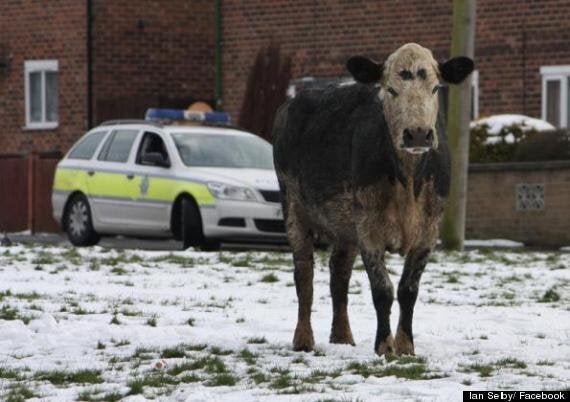 The cow was shot by police marksmen
Police marksmen decided the animal posed a serious risk to members of the public and took the decision to shoot it after consulting with the RSPCA and its owner.
Pupils and staff at Belton Lane Community Primary School had already been evacuated when the cow was shot.
But the force's actions have been labelled as heavy handed by some members of the public.
James Newall wrote: "Terrible!... Surely they could have used a tranquilliser??? I understand the risk to peoples lives but there must have been another option??."
Theo Charity commented: "I can't believe they shot a cow. It's not like it was a ravenous bear."
Lincolnshire Police issued a further statement in response to the "significant public interest" and to address the concerns raised by some members of the public.
In the statement, Lincolnshire Police said: "The animal's presence in a residential area posed a serious risk to safety. A significant amount of resources were committed to containing the animal. The intention was to safely remove the animal from the area without destroying it if at all possible.
"After more than two hours of working towards this aim, it became apparent that it was not achievable. Several options, including sedation, were considered. The RSPCA and the owner of the animal were consulted.
"As more members of the public turned up to watch the incident, prompted by online commentary on the situation, the animal became increasingly distressed and there were fears that it would jump further fences and re-enter a residential area."
The force said reports that some shots had missed the animal were incorrect.
It confirmed four shots had been fired and all had hit their target.
The force added: "This is a rural county and we deal with dozens of similar incidents every year without them ending in the death of the animal. Generally these animals escape onto roads in remote locations. In this type of situation the road can be closed and the animal can be herded to safety.
"On this occasion the animal was roaming in a built up residential area and posed a serious risk to safety. In a situation like this the preservation of human life takes precedence."