Uefa has advised referees to halt matches should a racist incident occur, pledging their "full support" to such a stand being made.
Althought European football's governing body authorised such an action in 2009, the reminder comes after a high-profile incident in Italy earlier this year.
In January, Kevin-Prince Boateng led AC Milan's walk-off during a friendly with Pro Patria after he had been racially abused. The game never re-started and Boateng was universally commended for his actions, and the Ghanian met with Fifa president Sepp Blatter earlier this month to discuss how football should tackle racism. Boateng met with Blatter at Fifa's headquarters after the Pro Patria incident
The three-step procedure begins with halting the match, the second step would be to suspend the match for a given period of time and, finally, abandon it if necessary.
The Professional Football Strategy Council (PFSC) drew up the resolution, which was ratified by Uefa's executive committee meeting in Bulgaria on Thursday. The PFSC includes representatives from Uefa, national leagues, European clubs and players. Boateng reacts to the racist abuse he received
European football's governing body also recommended coaches and players to speak out "even if it meant criticising their own players and fans".
Liverpool were castigated last season for their support of Luis Suárez after he was found guilty of racially abusing Manchester United left-back Patrice Evra.
Players and staff wore T-shirts a day after Suárez's punishment had been announced for the Reds' game at Wigan, and the Uruguayan is still yet to apologise to Evra for insulting him.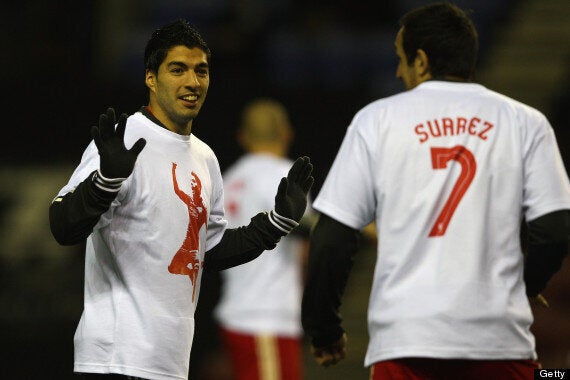 Liverpool donned pro-Suárez T-shirts at Wigan last season
Ten days ago, Internazionale were charged after their fans aired racial slurs at Tottenham players in the clubs' Europa League tie, although the game wasn't stopped.
The Nerazurri have already been fined £43,000 (€50,000) by Serie A officials after supporters racially abused former Inter players Mario Balotelli and Sulley Muntari, now playing for AC Milan, in the Milan derby last month.