Manchester City manager Roberto Mancini has criticised Belgium counterpart Marc Wilmots for selecting captain Vincent Kompany this week.
Kompany made his first competitive appearance in eight weeks when he featured in his country's World Cup qualifying win against Macedonia on Tuesday.
The 26-year-old defender had been sidelined since suffering a calf injury in the FA Cup fourth-round win at Stoke City on 26 January, and has made slow progress in his recovery. City were five points behind Manchester United when the Belgian suffered the injury, now they trail their rivals by 15.
Although the national skipper did not play in last Friday's victory in Macedonia, he played all 90 minutes of the return fixture in Brussels, much to Mancini's chagrin.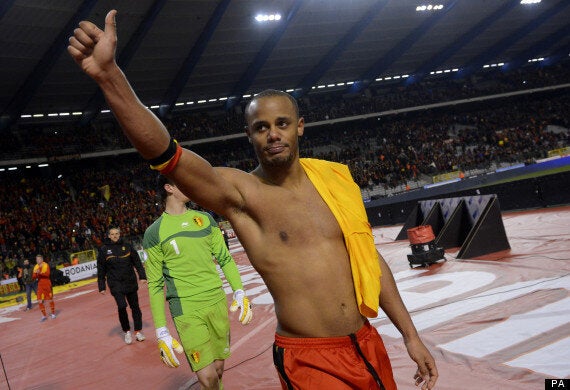 City were five points behind United when Kompany got injured
"He didn't play for us for 60 days and then he went to play for the Belgium team," Mancini said. "I did not agree with this. I think sometimes some managers of national teams should understand the situation.
"This player plays for the club and the club, every month, pay his salary.
"I don't know if he is okay or not. One week before the international break he was not fit to play for us. I didn't see Vinny yesterday. I will see him today."
City entertain Newcastle at the Etihad Stadium on Saturday, when Sergio Agüero could make his return from a knee injury, having missed the last three games.
Talk also turned to influential midfielder Yaya Touré, after his agent expressed frustration about supposed contract delays. Mancini however quashed the chances of the 29-year-old leaving Eastlands.
"Yaya will stay here for a long time. Yaya is one of the best players in the world and he will stay here for another three, four, five (years), I don't know. A long time." Touré is one of City's biggest assets
On a busy morning at Carrington, Mancini was also asked about a report linking him with a move to AS Monaco, a club he admitted he was in discussions with about joining last year.
Again the Italian dismissed the prospect of him replacing Claudio Ranieri.
"No. Monaco, for me, are one of the best (teams) in France now. Now they are in the second division.
"They have a good manager and I stay here for a long time, like Yaya."