The most important day of the Christian calendar will be especially memorable for a handful of people who have been baptised outdoors as the UK is in the grip of one of the coldest Easters in living memory.
In all, seven men and women were fully submerged and baptised by the Bishop of Leicester, the Rt Rev Tim Stevens, today in a special service at the city's cathedral.
The usual dawn chill combined with the unseasonably cold weather to make the occasion a particularly stern test of faith for those taking part.
However, the highly symbolic service - watched by more than 100 people in the shadow of the medieval building - passed in celebration.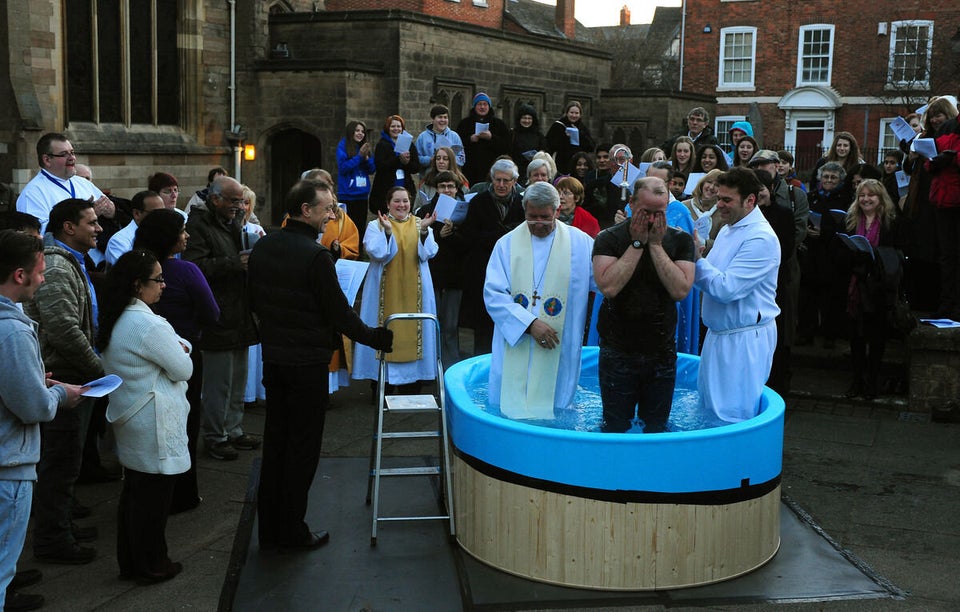 Baptisms of Ice
Bishop Stevens said baptism and confirmation were "acts of drama" and of "trust" to show on-lookers they place their faith in God.
He said Easter Sunday was, by tradition, the day when such services are carried out as Christians across the world celebrate their belief in the resurrection of Jesus Christ.
"Baptism is an act of drama and is about the abandonment of oneself to the life of Jesus Christ," said Bishop Stevens.
"It's a public drama, and to make it more public we've brought it outside."
Despite the icy water, all of those baptised came up smiling, cheered and applauded by the on-lookers.
"They know at that moment that something has changed in their lives and you see it on their faces as they emerge,"
Reese Musk, 19, from Syston in Leicestershire, was one of those taking part, and agreed he felt a changed man.
"It feels like a new me," he said.
"I've always believed and always wanted to be baptised and confirmed."
He added: "The water was cold and that's the coldest I've ever been in my life, but I am very happy to be here."