Thrill-seekers in London are being treated to the world's ultimate helter-skelter this Easter - from the top of the Shard!
The tantalisingly terrifying tornado, 'imaginatively' called The Shlide , starts from the viewing platform on the 72nd floor and plummets 244.3m to ground level.
Riders will reach a dizzying 75mph on specially made mats created with NASA technology to resist the huge levels of friction generated.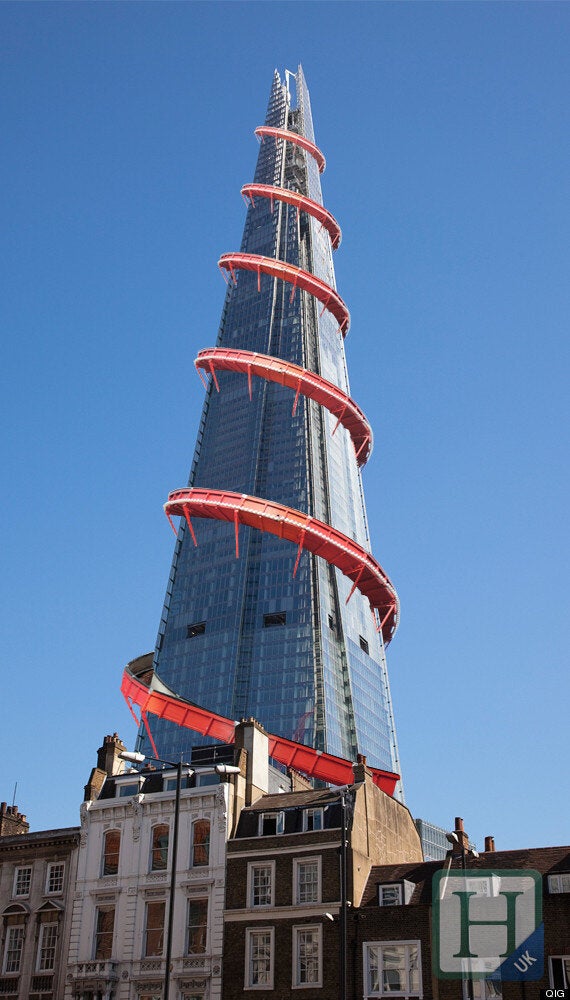 Project Co-Ordinator, "Dizzy" Lizzy McGovern, said: "We had some erm... technical issues in testing.
"Originally we tested the slide with regular fairground mats but they just got too hot.
"We wish Brian, the initial tester, a speedy recovery after the operation to replace both his knees."
Despite the teething problems the slide is now ready to open to the public on Monday.
The Shlide is being funded by the wealthy Qatari backers of the Shard itself.
A spokesman for the Qatari Investment Group (QIG) said: "We are very excited to present this incredible thrill opportunity to the people of London.
"After the success of our Eiffel Tower Jungle Swing and the Silverstone Dodgems we are sure this will be a huge success."
Surprisingly the slide is having some political ramifications.
Fresh from the oneupmanship of the immigration debate, each of the country's political leaders is racing to become the first to brave the twisty challenge and prove their bravado.
McGovern said: "Unfortunately Cameron and Co will not be the first. Boris Johnson is rather keen to put the memories of that fateful zip-wire incident behind him and show the public what he can really do."
Anyone wanting a go on The Shlide should know it is free but on a strictly first-come-first-served basis. Report to the Shard ticket office at midday.
Related