If you have occasion to call a black cab in London, you'll usually be wise to strike up a conversation with the driver - their experience of the weirder side of life in the UK's capital is hard to match.
But if you'd rather catch up with House of Cards instead, you can now do that too thanks to EE, who have launched the UK's first fleet of 4G-enabled cabs.
The company behind the UK's first LTE network has sent out 50 of the 4G cabs -- 40 in London and 10 in Birmingham, each one with a super-fast WiFi hotspot open to customers.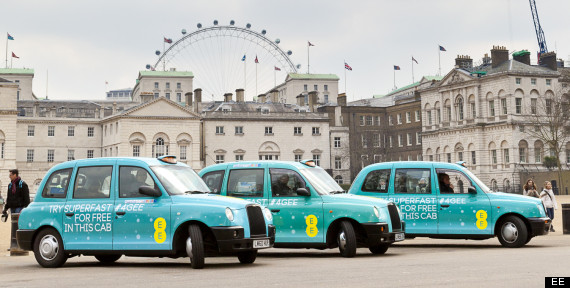 EE cite stats that say 1 in 5 commuters would be less stressed if their cab had reliable internet access.
Spencer McHugh, director of brand at EE said in a statement:
"The first motorised black cabs hit the streets in 1901, nearly 70 years before the first smartphone was available to consumers, now we are bringing this icon of British transport into the 21st century with a 4G make-over."
What this stunt will do for customer-cabbie relations, we don't know. But if you're desperate to download large chunks of video while stuck in traffic, this might work out well.
If you spot one let us know in the comments.