Neil Warnock left Leeds tonight after failing in his bid to secure promotion in what he claimed would be his last job.
The 64-year-old said in the wake of his side's 2-1 defeat to Derby - their sixth game without a win that left them 12th in the table - that he would be telling the club's owners, GFH Capital, that it would be best for someone else to take the team for the remaining six matches of the season.
Warnock had always maintained he would leave if Leeds did not achieve promotion from the npower Championship this season and with relegation fears now more relevant than Premier League hopes, the club announced his departure in a statement shortly after.
Academy coach Neil Redfearn has been placed in temporary charge of the side with the club adding that he would do so until a "permanent appointment" was made. Warnock's long-time assistants, Ronnie Jepson and Mick Jones, have also left Elland Road.
"We would like to thank Neil for his efforts during his time as our manager and share his disappointment that we could not achieve promotion this season," said Leeds chief executive Shaun Harvey.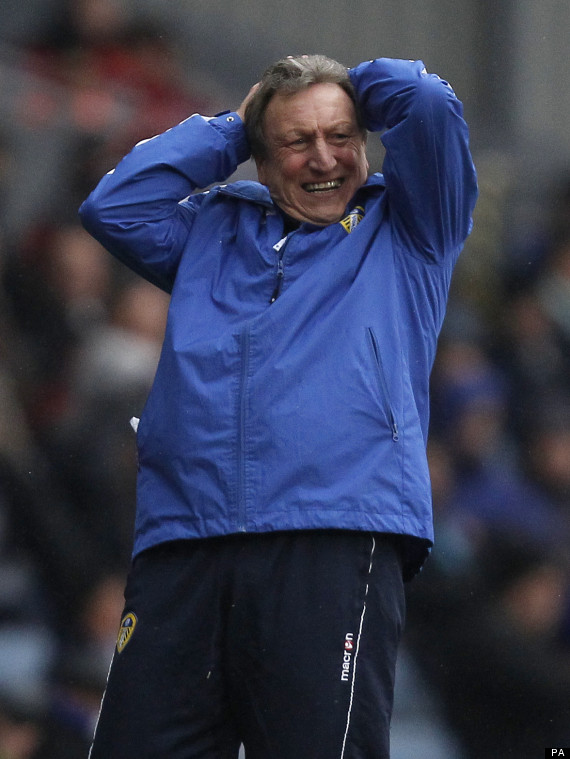 Warnock reacts during Leeds' 2-1 defeat to Derby
Warnock spoke candidly about his position after today's game - the latest in a long line of fixtures where he has been the subject of vicious chants from his own supporters.
"I know the fans chant different things about me going back to Cornwall and I will," he said.
"You have to be careful what you wish for as a fan - the majority appreciate the job I have done and I speak to a lot, but you always get a minority.
"I'm the only one at the front getting the stick at the minute, as soon as a goal goes in, there's no one else to have a go at. It would appease the fans if we put someone in temporary.
"I've always wanted to take the club up and I am so frustrated this year I would stay with the supporters (on side) but it won't come to that. GFH know the situation.
Warnock took over the Leeds reins from Simon Grayson in February last year was in charge for 63 games, saying it would be his last job and would be aiming for a record eighth promotion.
He has yet to confirm if he will stick to his initial plan to retire but has recently stated his aim to take on a director of football role at another club.
His time in charge of Leeds coincides with the purchase of the club by GFH Capital from from Ken Bates, with Warnock often frustrated by what was a seven month long transaction, although he was called a "legend of the British game" at the time by his new employers.