Apple's futuristic plan to build "the best office building in the world" is more than a year behind schedule and two billion dollars over budget.
Apple Campus 2 is a hugely ambitious project which resembles a giant UFO nestled in a forest of trees.
The structure was announced in 2011 at what would turn out to be founder Steve Jobs' last public appearance.
Part of the reason is that Jobs designed the building, along with architects Foster + Partners, to use no straight glass.
Jobs told the Cupertino City Council that "there isn't a straight piece of glass on the whole building... and as you know if you build things, this isn't the cheapest way to build them".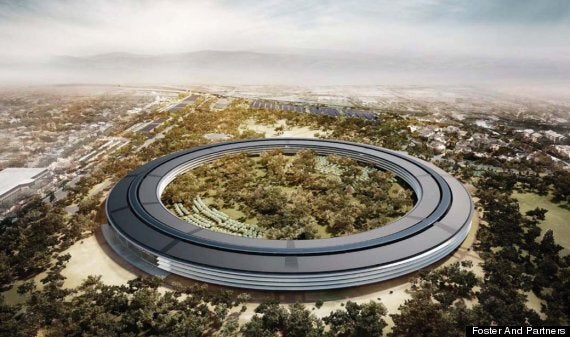 The firm making the glass for the building - a Germany company, Seele, who also make the glass staircases which Jobs patented before his death and which have pride of place in the company's stores - have had to double their production capacity to cope.
According to The Verge the company normally produces glass in "square feet" but is now making more than six square kilometers of glass for the building.
Campus 2 is also designed to be a "net zero" energy project, meaning it will generate 8 megawatts of power through solar panels - enough to power 4,000 homes.
Still, luckily Apple has a bit of spare cash at the moment - about $127 billion in the bank, as it turns out. So even if Foster + Partners can't find the billion dollars of savings that Apple is demanding, we still see this project coming to a happy conclusion somewhere down the line.