The Duchess of Cambridge arrived in Glasgow wearing a tartan coat to tour one of the venues for events at the 2014 Commonwealth Games.
Accompanied by her husband, Kate visited the Emirates Arena, including the Sir Chris Hoy Velodrome, watching riders in a practice session.
The engagement is part of a two-day tour of Scotland.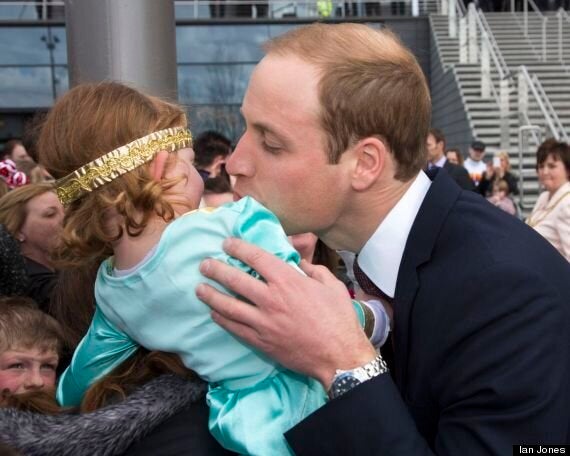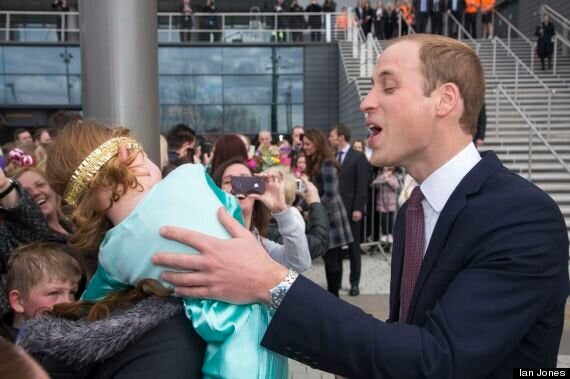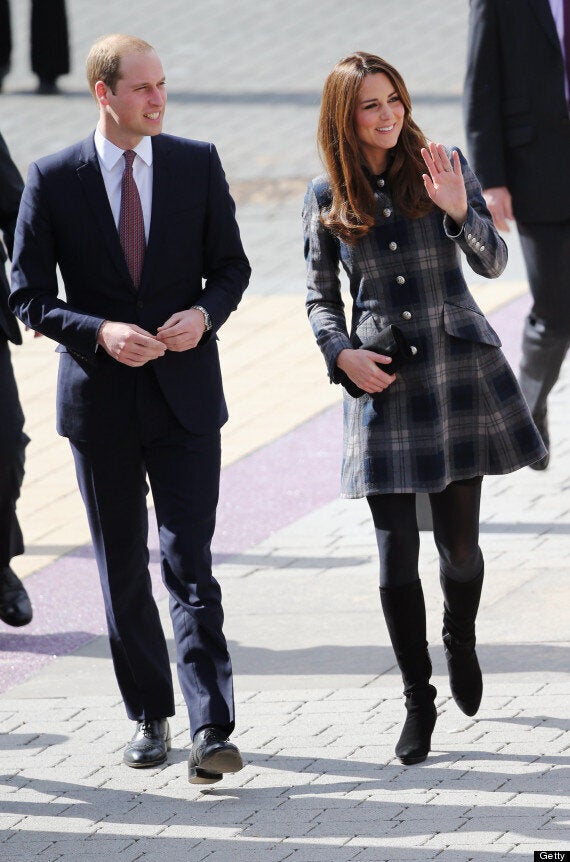 Later, William will make a Skype web call to two homeless people from Scotland who are working in Holland.
The royal couple, known as the Earl and Countess of Strathearn when in Scotland, will also travel to Dumfries House in Ayrshire.
The 18th century mansion was bought, along with its contents and adjoining land, by a consortium led by the Prince of Wales in June 2007.
Charles, known as the Duke of Rothesay in Scotland, will join his son and daughter-in-law as the Manoukian Foundation, a new outdoor centre for uniformed youth services and schools, is opened in the grounds.
The visit will be marked by a fly-past of three Typhoons from 6 Squadron, RAF Leuchars - a base close to St Andrews University in Scotland where William and Kate first met as students.
The couple will then travel to Barrow-in-Furness, Cumbria, to learn about the new Astute Class of nuclear powered submarines being built for the Royal Navy by BAE Systems.
Kate's Scottish look was courtesy of the British family-run design company, moloh.
The firm has a boutique in Tetbury, close to Charles's Gloucestershire home, and another in Pimlico in central London.
The Duchess's £425 pure wool blue and grey plaid coat, called a worker's coat, was created by Caroline Smiley, designer and founder of moloh, which is celebrating its 10th anniversary this year.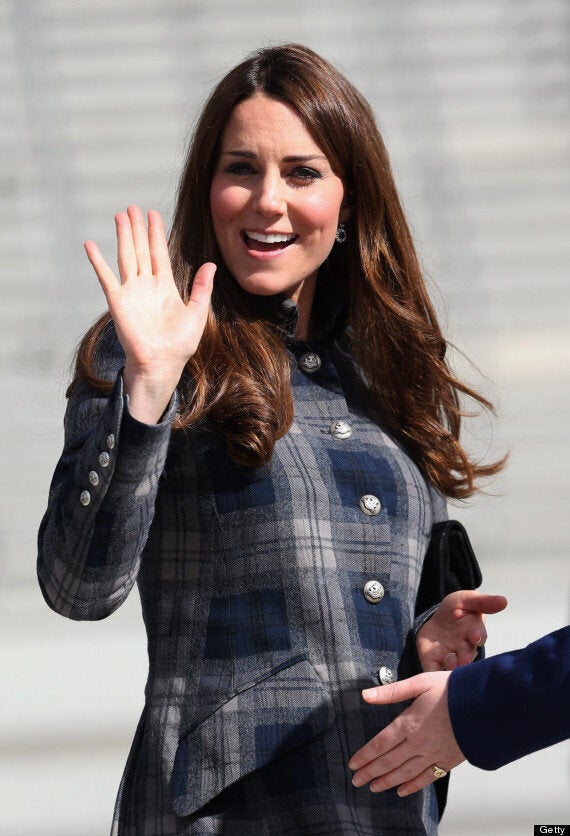 A spokeswoman for the company said Kate has worn a belt from the firm in the past.
She said: "She's worn the brand before a few years ago but it's great to see she's a loyal fan.
"This coat is from our collection released this year. Only 20 have been made, so once they've gone, they've gone."
At the Emirates Arena, William and Kate met Games organisers and budding athletes, before unveiling a commemorative plaque to mark their visit.
The couple delighted onlookers by stopping to chat, and William accepted a little girl's request for a kiss from a prince.
Four-year-old Shona Ritchie was dressed in her favourite green and gold princess outfit complete with a gold crown as she stood outside the arena with her family.
Her mother, Karen Ritchie, 34, from Croftfoot, Glasgow, said Shona had waited all morning to ask William for a kiss but, as he leaned over, she became shy.
"She's been dressed up like that since 6am today and we've been here waiting since nine," Ritchie said.
"But when she finally plucked up the courage to ask him, she got really shy and pulled away. As he leaned in to kiss her on the forehead she pulled away and got really shy.
"This is the quietest she's been all day."
Kate also stopped to talk to Shona, who gave the Duchess a red flower she had picked out of her mother's vase at home.
Ritchie said: "She said Shona looked very pretty and asked her if she had picked the flower from her garden, but Shona told her she got it from my vase in the house and she thought that was very funny."
The Duke and Duchess also watched pole vaulters, badminton players and a netball match.
They were treated to a performance from the Glasgow 2014 mascot, Clyde, and Clyde's dance crew.
Kate later met Clyde and his designer, 12-year-old Beth Gilmour, from Cumbernauld. It emerged that the cheeky thistle mascot had earlier asked if he could pat Kate's bump.
Glasgow 2014 marketing manager Samantha Jones said: "Clyde doesn't speak but he was gesturing to Kate about her baby as if to congratulate her.
"Before the visit he was asking if he could pat the bump, but we told him no.
"When he was signalling to her about the baby, she just laughed and said 'Oh yes, the baby. Thank you very much."
Beth, who won a school competition to become the official mascot designer, gave Kate a book named Captain Bristle's Thistle, which tells the story of Clyde.
"I never thought I would win the competition in the first place so meeting royalty was really unexpected, but an honour," she said.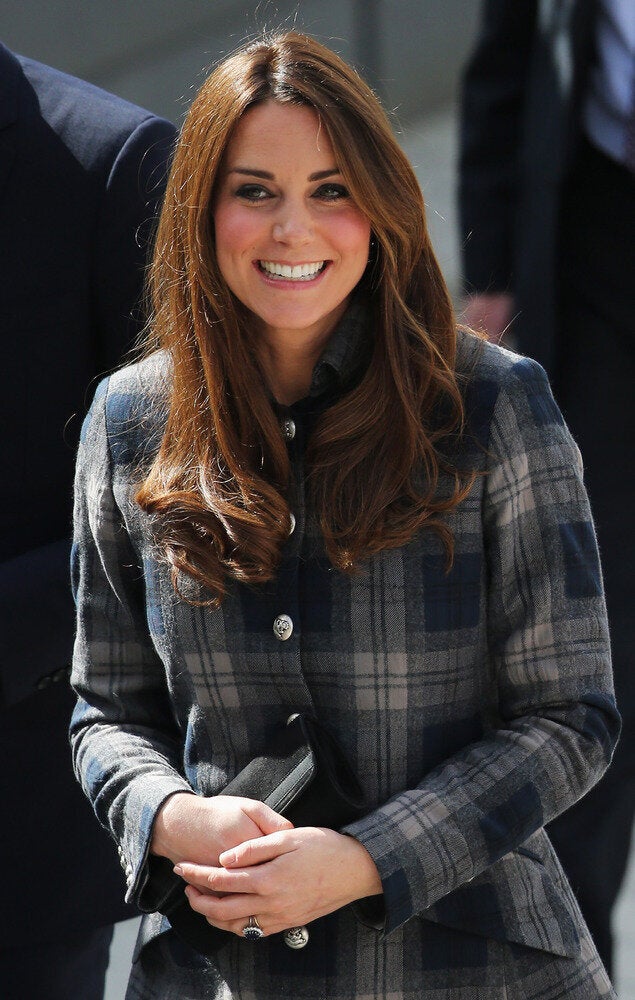 Prince William, Earl Of Strahearn And Catherine, Countess Of Strathearn Visit The Emirates Arena, Glasgow