April is the cruellest month, TS Eliot once wrote in his poem, The Waste Land.
As far as the weather is concerned, it certainly feels like it at the moment as bitterly cold winds have continued to persist over parts of the UK into the first week of April.
Daytime temperatures have struggled to rise much above freezing in parts of south-east England by day.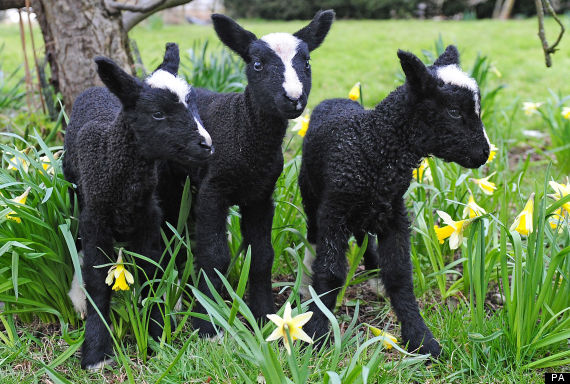 These lambs have fared better than most this spring
On Wednesday, temperatures failed to rise above 2C (36F) at the town of Wych Cross, East Sussex whilst the normal for this time of year is nearer to 11C (52F) there.
Overnight, temperatures have fallen below zero quite widely across the UK each night so far this April with a low of -11C (12F) recorded at Braemar, Aberdeenshire, on Tuesday morning.
Furthermore, a brisk north-easterly wind originating from north-east Europe and north-west Russia has added to the chill over England and Wales.
Looking back over previous years, it becomes apparent how fickle the weather can be in April.
In 2011, much of the UK enjoyed a warm and sunny month. The temperature soared to 27.8C (82F) at Wisley, Surrey on 23 April in what was the warmest April on record averaged across the UK.
In stark contrast, the April of 1908 was particularly cruel. In that month, snow fell across parts of southern England from 23 to 25, bringing a blanket of snow and drifting to East Anglia, south-east England and the Channel Islands.
More recently, in 2008, a cold front brought frigid air straight from the arctic, producing a covering of snow to southern and south-east England on the morning of Sunday April 6, with up to five to 8cm (two to three inches) falling quite widely.
One of the reasons for the weather in spring being so varied and sometimes surprising in the UK is that northerly winds tend to be more prevalent this time of year than at any other time. Whilst the sun has enough strength to produce pleasantly warm days, northerly and north-easterly winds can still bring bursts of cold, wintry weather.
Furthermore, the seas are still relatively cold this time of year, unlike in early autumn when relatively warm seas tend to help to protect the UK from extreme cold and snow. Indeed, anyone taking a dip in the North Sea at the moment would be in for a shock, currently sea temperatures are even lower than normal here at only 4C (39F).
There is still plenty of time for the weather to improve this April.
Indeed, those bitter north-easterly winds will ease this weekend, making it feel a little less cold than recently, particularly in the south.
Looking further ahead, there are signs of the weather warming up a little over the next week or two as low pressure systems approach from the Atlantic. However, that is also likely to mean the return of some rain.