Rumours that Microsoft's next Xbox will require an "always-on" internet connection were reignited after an engineer tried to defend the unannounced move on Twitter.
The next generation of the Xbox is expected to be launched in late 2013 or early 2014.
Microsoft has not revealed any official details about the machine, but specifics are beginning to leak ahead of the unveiling - which could come as soon as this month.
One persistent rumour is that the console will need to be online to start games, and will "time out" if a connection is dropped.
That's been received angrily by gamers, many of whom argue it's a cynical attempt to cut piracy - and leaves out customers in rural areas. The recent launch of EA's always-online SimCity reboot was badly marred by a failure to cope with server demand, leaving even those users running single-player games unable to access the software.
So would Microsoft really take that risk?
According to Kotaku two new sources have added credence to the rumours, with one stating that the console will only allow players three minutes offline before it quits the game.
And now Microsoft Studios creative director Adam Orth has fanned the flames with a series of defensive tweets that have been widely published online:
"Sorry, I don't get the drama over having an "always on" console," he said. "#DealWithIt#".
"Every device now is 'always-on.' That's the world we live in."
He went on to compare an "always-on" requirement with the need to run a vacuum cleaner with electricity.
His Twitter account is now set to "private", but the tweets were collected on the gaming forum NeoGAF. While they're not confirmation that the machine will need the internet to function, it will hardly set concerned Xbox fans' minds at ease.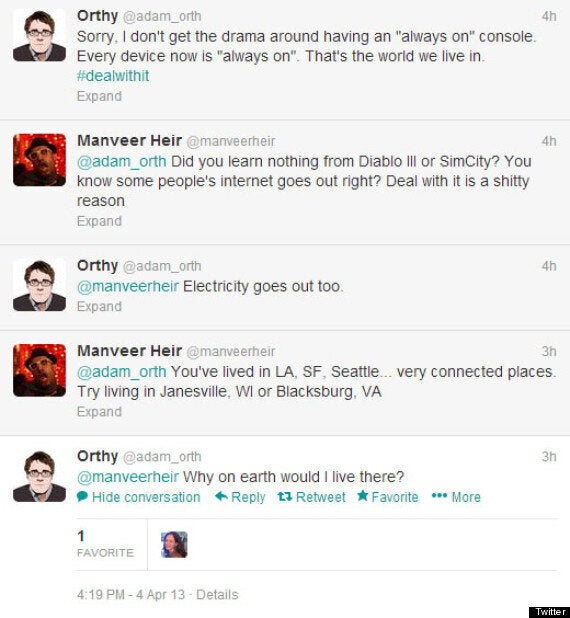 Related