In The Matrix, Neo's destiny is dependent upon whether he chooses the red pill or the blue pill. The outcome of the Premier League too has been decided by one man picking between red and blue, and Robin van Persie is The One whose decision to decline Manchester City will almost certainly result in United winning a 20th English championship.
After a flurry of fixtures in which the most recent Manchester derby was more pivotal than the previous encounter, United and City's Monday night meeting is arguably the least significant, the 2011 Community Shield excepted, since December 2006. The 15-point chasm between the champions-elect and the champions means tonight's encounter is not even the most important this week for City, whose sole hope of silverware this campaign rests on Saturday's FA Cup semi-final with Chelsea.
Nevertheless, despite the points difference between first and second this is a crucial match for United as they bid to finish with a flourish. Win tonight, and United will go 18 points clear of City as they exorcise the ghost of last season's traumatic title loss on the final day, humiliating their adversaries simultaneously.
However United's form, if not their results, has regressed since the turn of the year and is reminiscent of their pragmatic victories in the 2008-09 title-winning term. The Reds's last two goals in the Premier League have come via two major deflections, and the hangover from the deflating Champions League elimination has resulted in Chelsea jettisoning United from the FA Cup.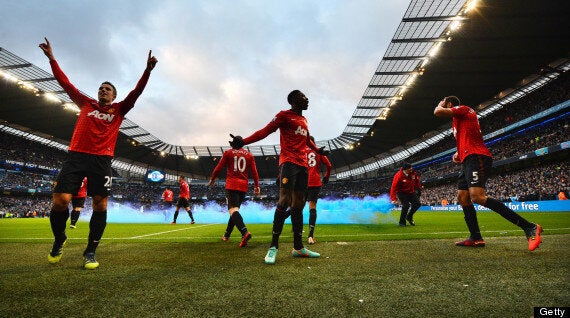 War games: Van Persie, Welbeck and Ferdinand celebrate the former's winner in December
United were, up until January, playing some of the most entertaining football of the Ferguson era. The breakneck start at Newcastle was classy if carefree, Chelsea and Manchester City were both held off for 3-2 wins, the rip-roaring comeback away at Aston Villa was one of the season's defining wins while Reading and Newcastle again were seen off in 4-3 thrillers.
However since the 1-1 draw at Tottenham in January United have become a more utilitarian outfit. They have conceded one goal since in the league and that "fear factor" Roberto Mancini spoke of on Friday has resulted in victories against supposedly "soft" opponents. United have had a favourable run of games - beating Southampton, Fulham, Everton, QPR, Norwich, Reading and Sunderland - with only the Saints and the Cottagers inducing anxiety.
It is no coincidence their machine-like football has come just when Robin van Persie has lost his form. His last goal was almost two months ago and his failure to convert presentable opportunities against Madrid and Chelsea proved pivotal as United bowed out of the cups. The incentive against City is for the team, and Van
Enviably for City, Wayne Rooney has been the matchwinner in three of the league games during Van Persie's drought. Mancini has bemoaned Ferguson's luxury recurrently ever since Van Persie opted for Old Trafford over the Etihad. Out of the City strikers, only Carlos Tévez has more goals at this stage than he did last season, and that was mainly due to him embarking on a five month golfing holiday last year.
With no alternative lined up to Van Persie, the club's kamikaze spending on the August deadline day makes the gulf between them and United unsurprising. City failed to prepare and they must now be prepared to fail.
It is an indication of this game's apparent insignificance that last year's 6-1 has rarely been mentioned; United fans are even armed with a witty response to City's celebratory ditty of the occasion, mocking their failure to win a single game in Europe. Vincent Kompany, in a bid to intensify the anticipation, trumped his risible "moral victory" claim last year when he said City could become the "champions of Manchester".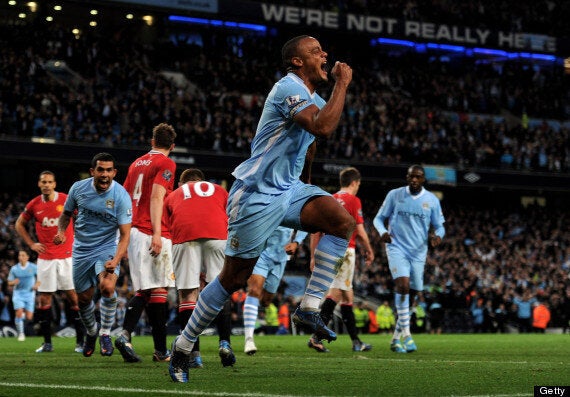 Kompany celebrates his winner in last season's derby at Eastlands
Ferguson has lost just nine derbies in his 26-and-a-half-years in Manchester and almost all of them have been horrific experiences. City have routed United 1-0 (thrice), 2-1, 3-1 (twice), 4-1, 5-1 and 6-1, with last year's double such an ignominious experience United's performance in the 6-1 loss was more positive than the cowardly defeat in the seminal April match.
Yet even if City do win for the second successive occasion at Old Trafford - something which hasn't happened since 1970 - there won't be much to brag about. This isn't the one.