Police have launched a criminal inquiry into a sign "banning" Eastern Europeans near a rural fishing lake.
Warwickshire Police said its officers had attended the fishery at Napton-on-the-Hill, near Southam, last week and were now investigating whether an offence had been committed.
The large green notice, at Dog Lane fishery in Napton, Warwickshire, sparked fury and was branded racist.
According to the site owner, it is needed to prevent fish from being stolen.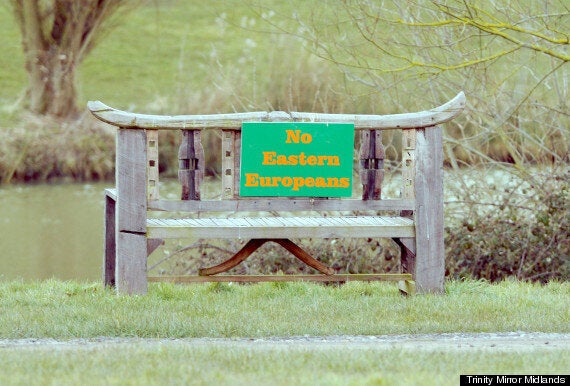 The sign was branded racist by a passer-by
The walker said: "It's bizarre, backward and racist. It's the sort of thing you're shocked to see in this day and age.
"There was someone else in their car looking incredulously at it. They've obviously had problems with people taking fish, judging by the other signs they've put up.
"But you don't expect to see this ignorant, racist kind of thing. Even if they held racist views, I can't understand how they think this is acceptable."
But owner Eddie Whitehead dismissed the criticism, telling the Coventry Telegraph it was needed to "prevent Eastern Europeans stealing fish".
"I am sure they are Eastern Europeans. I've had no problems with people from other countries," he said.
"I haven't got time to sit and watch them to see if they are taking fish. I'm concerned for my own safety too.
"That's the reason I don't want them. I may be breaking the law, but it's livelihood. I've just re-stocked the lake with £9,600 of carp.
"Every fishery has the same problem. They are breaking the law in England because they are pinching the fish."