UPDATE: Amina Tyler: Topless Tunisian Protester Tells Femen She Was Beaten, Kidnapped & Drugged By Her Family (VIDEO)
A Tunisian activist, who was threatened with death by stoning for baring her breasts online, has broken her silence to condemn the "topless jihad" that was organised in support of her.
Amina Tyler posted images of herself with the words "Fuck your morals" written across her chest to the Femen-Tunisia Facebook page, earning calls for her death from a local preacher who feared her act "could bring about an epidemic".
Women's movement Femen, which celebrated its fifth birthday on Wednesday, responded by organising bare-breasted rallies across the world, touting them as a cry against the "lethal hatred of Islamists – inhuman beasts for whom killing a woman is more natural than recognising her right to do as she pleases with her own body."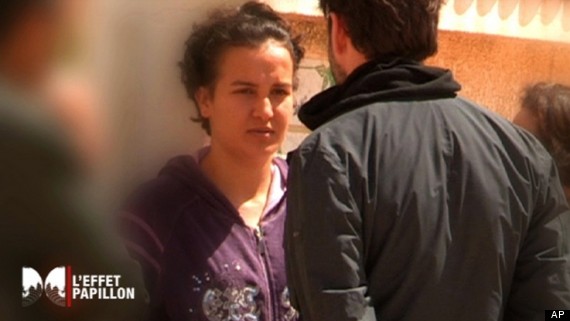 Amina Tyler has been pictured for the first time since the scandal broke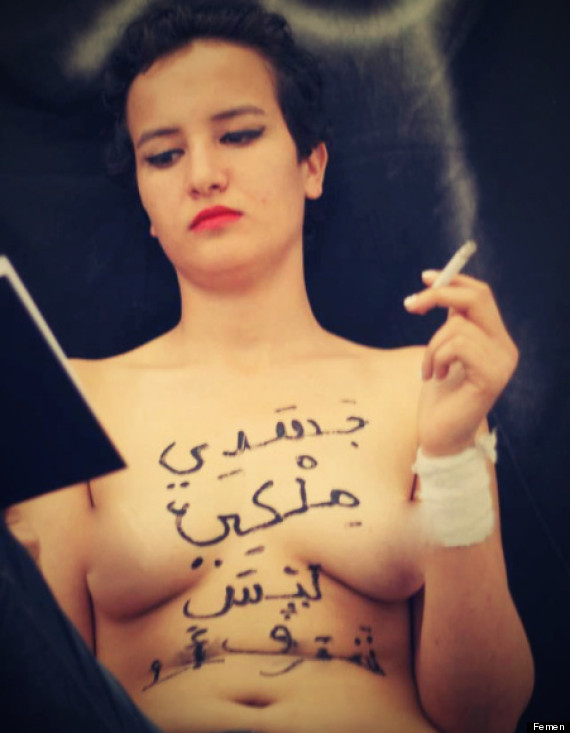 One of the pictures of Amina posted on the Femen Tunisia site
Since the event – which inspired the creation of a group of Muslim women fiercely opposed to Femen's work – Amina has remained out of sight.
Amid fears for her life, the 19-year-old was rumoured to be in a psychiatric hospital, while attorney Bochra Bel Haj Hmida insisted Amina was well and with her family.
Now footage of Amina has surfaced on French TV channel Itele, in which the teenager said she does not want to be associated with Femen's recent actions.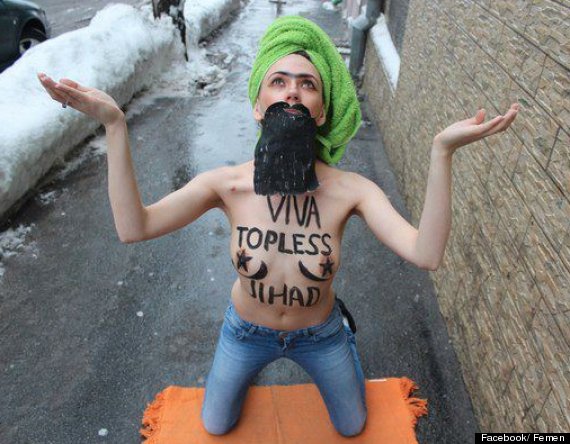 An image posted on the Femen Facebook page, captioned: 'We pray for a topless jihad'
She said: "I am against. Everyone will think that I encouraged their actions. They have insulted all Muslims everywhere and it's not acceptable."
When asked what she thought of the reaction to her topless photograph, Amina replied: "At the moment I don't regret what I did. But I do not know what the future holds."
As to whether she supports Femen "whatever happens", she says: "Until I'm 80-years-old. Because they are true feminists."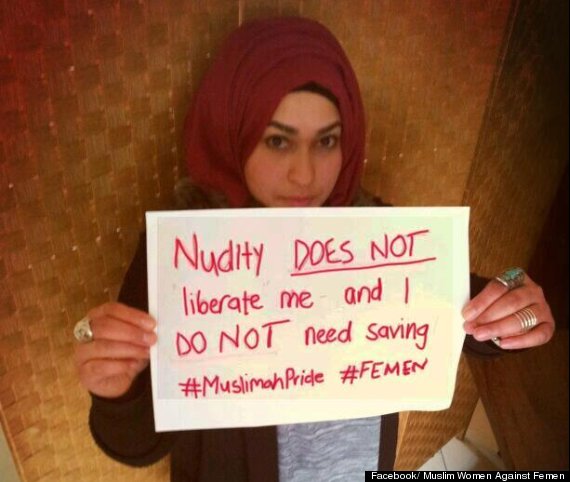 An image from the Muslim Women Against Femen Facebook page
CAPA journalist Benoit Chaumant says that for her own safety, Amina hopes to leave Tunisia soon.
He adds: "It's ambiguous, it's unclear. Her family want to protect her, that's for sure.
"They believe she is at risk of death – she is at risk of death. So they want to keep her with them, at their house."
In what was believed to be her last interview before she went underground, Amina told Frederica Tourn she she believed she would be beaten or raped if the Tunisian police found her.
But she insisted she was not afraid: "No, nothing they could do would be worse than what already happens here to women, the way women are forced to live every day.
"Ever since we are small they tell us to be calm, to behave well, to dress a certain way, everything to find a husband. We must also study to be able to marry, because young guys today want a woman who works."
As for what the reluctant poster-girl's comments will mean for Femen – and indeed for Muslim Women Against Femen, this remains to be seen.
UPDATE: Femen has contacted Huffington Post UK with a response to Amina's comments. They said:

"It's clear to us that she was not speaking freely. We know that she's been constantly under the supervision of her family, and, as far as we know, they've been making her take some sort of anti-depressants, which could account for her halting speech. That Tyler incorrectly described Femen's mosque protest proves to us that she has no independent access to the media. Her family is telling her things to make her stop her 'playing around at being free.' That she's at home with her family in no way means she's free or safe."