Uefa general-secretary Gianni Infantino has promised 10-match bans and stadium closures if club representatives or supporters are found guilty of racist abuse in the future.
Racism continues to mar football on the continent, with Tottenham Hotspur's black players most recently subjected to derogatory chants by Internazionale fans during the clubs' Europa League tie last month.
Uefa has been criticised in the past for its frivolous handling of racism in the game, however Infantino has vowed harsher punishments will be meted out in the future.
Speaking at the Soccerex conference in Manchester, the Italian said: "If a player or official is convicted of a racist offence he has to be suspended for 10 matches, at least.
"If a club's fans are convinced of a racist offence, there will be a partial closure of the stadium in the first instance."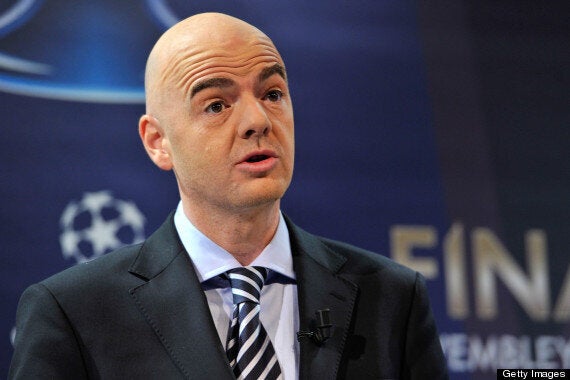 Infantino was adamant harsher sanctions would be imposed
"In the second instance there will be a full closure of the stadium and a minimum fine of £50,000."
In the two high-profile cases of racist abuse by players in England, Luis Suárez was banned for eight matches and John Terry for four.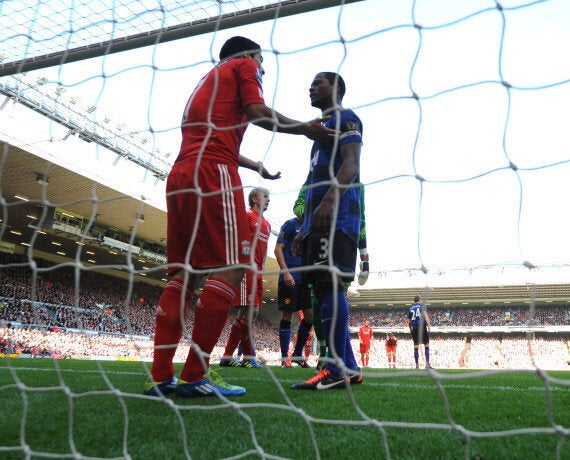 Evra confronts Suárez after he is racially abused in October 2011
Uefa have been accused of undermining racism in the past, and their history of dealing with the topic has often been farcical.
After home supporters' monkey chants marred England Under-21s' win in Serbia last October, Uefa announced the Serbia Under-21s will be forced to play their next match behind closed doors, yet they escaped with a fine of €80,000 (£65,000).
Manchester City were last year fined £25,000 for taking a minute longer to take to the field for their second-half Europa League match with Sporting Lisbon, whereas Porto were slapped with a £16,500 punishment after their supporters made monkey noises at Mario Balotelli and Yaya Touré. Danny Rose reacts after being subjected to monkey chants by Serbian fans
During a 2004 Spain-England friendly at Real Madrid's Bernabeu Stadium, Shaun Wright-Phillips, Ashley Cole, Rio Ferdinand, Jermain Defoe and Jermaine Jenas were hounded by monkey chants, with the Spanish Federation were eventually fined £45,000.
Uefa also fined the Serbian football federation £16,500 in 2007 for spectators' racist abuse of England players at the Under-21 European Championship in Holland, while the Croatian FA was fined £10,000 after supporters unveiled a racist banner at the 2008 European Championship against Turkey.