Warning: graphic video and images may cause distress
If you have a fear of going to the dentist, we suggest you look away now.
When 21-year-old Christopher Crist sat down in the dentist chair he was supposed to have just a few teeth removed, but when he left the surgery he had none. The dentist, he says, had removed each and every one.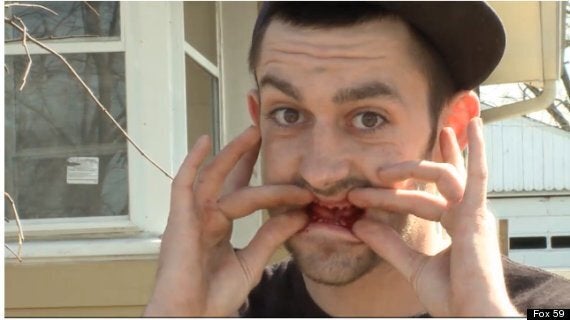 Crist, who is autistic and from Indiana, told Fox59 that his mother sent him to have three teeth removed at Amazing Family Dental. But he claims that while he was sedated the dentist kept pulling until all of his 32 teeth were removed.
"They pulled every last one of them," Crist tearfully told the reporter in the video above. "I am going to look like a freak now."
The 21-year-old maintains that dentist removed 29 teeth that he didn't want pulled, but the dentist has declined to comment.
Amazing Family Dental's lawyer, Steve Eslinger issued the following statement:
"Amazing Family Dental, PC and its dentist comply with the Health [Insurance] Portability And Accountability Act by keeping patient information confidential. This dental office also cooperates with patients by making patient files available to the patient on patient's request."
Since the original report was aired with Fox59, others have come forward to report similar experiences at the hands of the dentist.
Rose Hill claims that when she went to the same dental surgery about one troublesome tooth, the dentist removed the entire bottom row.
"I was shocked," she told the Fox59.
Sheena Cortez was in the adjacent room while Crist was in surgery and says that his mouth looked "like something out of a horror movie".
The young man's family claim that Crist spent two days in hospital after the ordeal, fighting infection.