Millions of Japanese cars across the globe, including thousands in the UK, are being recalled because of a problem with airbags.
The issue relates to the air bag inflator on the passenger side of vehicles, which may burst and send pieces of plastic flying.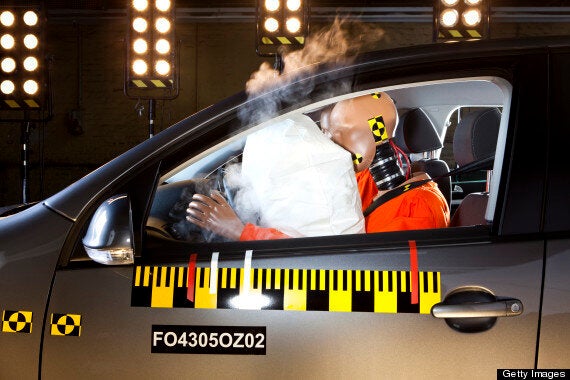 Toyota said there was a risk to car occupants because of the fault
There have been five incidents - in the USA and Japan - but there were no injuries.
Toyota is recalling 76,000 vehicles bought in the UK in the period November 2000 to March 2004, while Honda is recalling 15,400 UK-bought vehicles made between 2001 and 2004.
This is the third recall for Toyotas in the past 12 months but the company insisted its actions were not negative.
On its UK blog, the manufacturer said the issue was concerned with front passenger air bag inflators may have been made with improperly manufactured propellant parts which could 'deploy abnormally' in a crash at risk of injury to the car's occupant.
Nissan is also recalling some vehicles manufactured between 2000 and 2004 in the UK.
The Toyota recall involves models such as the Corolla and the Yaris, while the Honda recall involves the Civic, the CRV and the FRV.
Worldwide, Toyota, Honda and Nissan are recalling more than two million vehicles.
Nissan said that 59,058 of its cars sold in the UK are affected by the recall, including the X-Trail, Patrol, Almera, and Navara models.
The recall also involves 1,913 of the Mazda 6 models bought in the UK in 2002-03.