It was a sign that the evening was going to be different to the usual awards events I'd attended when I found myself sat next to 'Blind Dave' at the 2013 JustGiving Awards ceremony.
Dave Heeley - or Blind Dave as his magnifying glass business cards read - wasn't up for an award, he was one of the judges and had foregone his usual training regime for next weekend's London Marathon (his 12th consecutive in the capital) to celebrate the achievements of this year's charity fundraisers.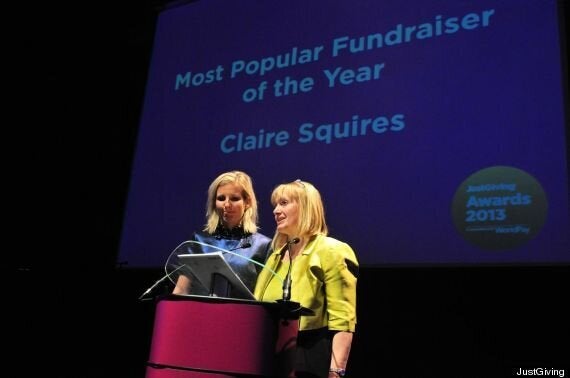 Claire Squires' sister, Maxine (left), and Catherine Johnstone of Samaritans accept the award on her behalf
Just for the record, Dave was the 2012 Endurance Fundraiser of the Year, having run and cycled from Land's End to John O'Groats - 1000 miles in just 10 days - raising £70,000 for Macmillan Cancer Research. What could this year's nominees do to top that inspirational feat?
Well, quite a lot as it turned out as the audience at The Troxy in east London discovered, applauding individuals, teams, companies and charities who had pushed themselves to the limits, overcome adversity, incorporated technology or developed some fantastic creativity - all in the name of fundraising.
The Huffington Post UK was there as the awards media partner, tweeting and livestreaming the ceremony (videos are below). HuffPost readers also voted for the Celebrity Fundraiser of the Year, which went to actor Tom Hardy, who drove across Siberia to raise £40,000 for Cambridge homeless charity, Flack, and save it from closure.
Before that announcement though, the audience was left in awe of this year's Endurance Fundraiser of the Year, Stuart Block, for his mind-boggling achievement of cycling 15,000km from Johannesburg to London, raising £100,000 for projects in Africa.
Another person who had put in the hours for charity was Alice Halstead, who won the Outstanding Commitment to Fundraising category. After being diagnosed with a form of diabetes at a young age and spending much time in hospilla, she has gone on to raise £50,000 for the Rays of Sunshine Children's Charity.
A new category for 2013 was the Special Recognition Award given to an individual or group who the judging panel thought deserved a special reward for their achievements. The inaugural winner was a rather surprised Barbara Walmsley who has been fundraising for Oxfam for 27 years and who brought much laughter from the audience.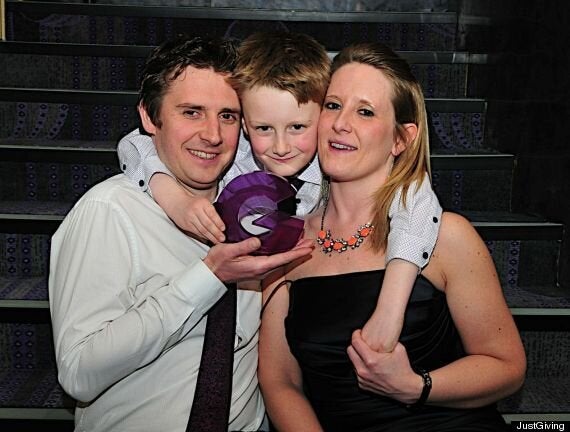 Freddy Parkins (centre) is the JustGiving Young Fundraiser of the Year for 2013
"I would really like to say how very, very surprised I am. I was told in the letter that I had been shortlisted for an award. I now realise it was a very, very short list," she said.
One of the most anticipated awards of the evening was for Young Fundraiser of the Year. Four children were nominated but as Dave Heeley said it was one of the most difficult categories to award. However, Freddy Parkin came out on top to great cheers for his efforts in raising £2,300 for the East Anglian Air Ambulance service which rescued him and his father after a serious road accident when he was just seven years old.
Perhaps the most poignant moment came when the late Claire Squires was announced as the Most Popular Fundraiser of the Year.
A seasoned fundraiser, Ms Squires collapsed near the end of last year's London Marathon and died later in hospital. Her JustGiving page went on to raise more than £1 million for Samaritans.
Accepting the award on her behalf was her sister, Maxine, and Catherine Johnstone, CEO of Samaritans, who said: "Obviously I would give the money back tomorrow to have Claire back but we will put the money to very, very good use and Claire's legacy will live on in all sorts of ways"
The full list of winners and links to their fundraising pages are below.
The JustGiving Awards 2013 winners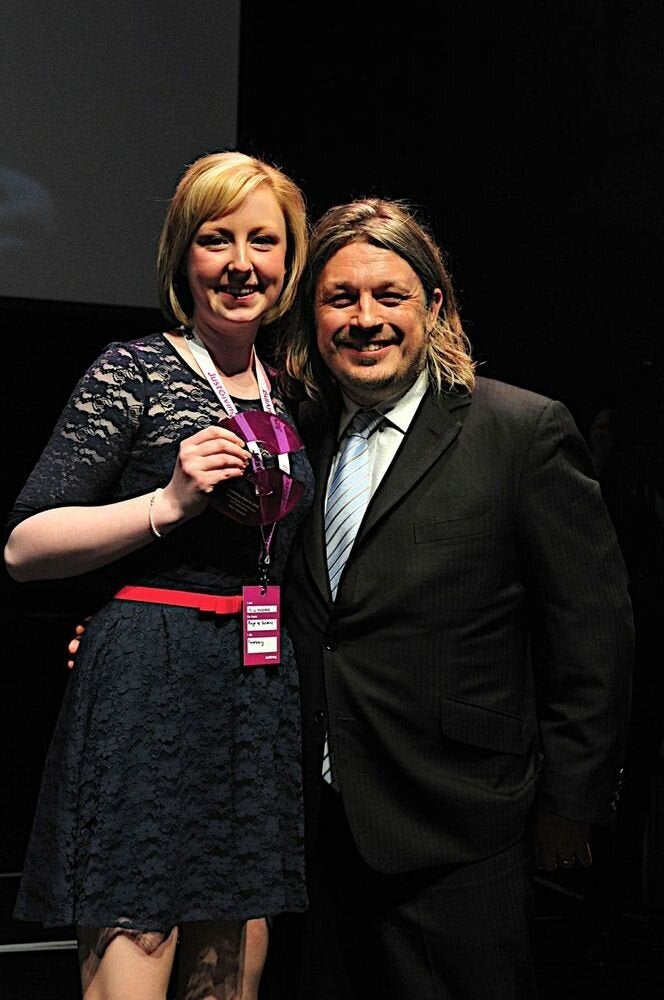 JustGiving Awards 2013
Related