Emma Watson and Martin Freeman led the British wins at Sunday night's MTV Movie Awards.
Former 'Harry Potter' star Watson was presented with the Trailblazer Award, while Freeman was awarded Best Hero for his role in 'The Hobbit: An Unexpected Journey'.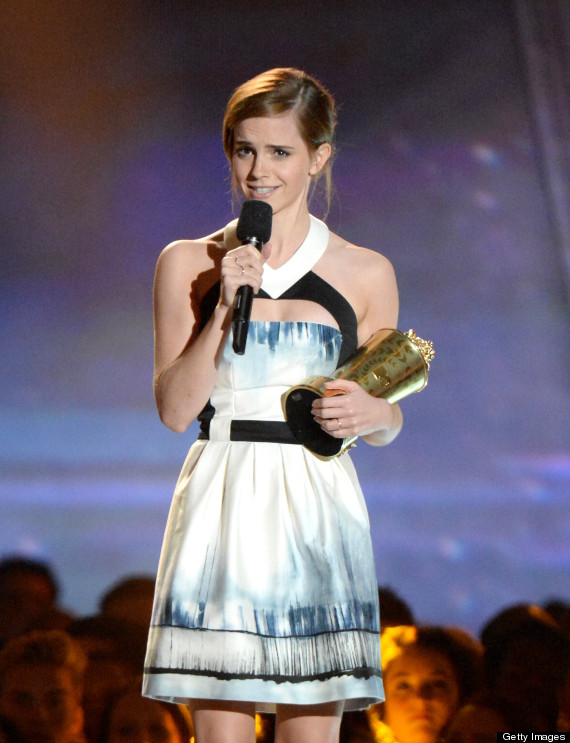 Emma was emotional as she picked up her gong from 'My Week With Marilyn' co-star Eddie Redmayne and 'Perks of Being A Wallflower' co-star Logan Lerman.
"You are going to make me cry," she told the crowd at the Sony studio in Culver City.
"After seeing those clips I look back at the work I've done over the past 14 years. Many things come to mind, most importantly how bad my hair was in the first Harry Potter film."
Addressing the crowd she added: "You have supported me in all of my awkwardness and allowed me to grow I to the kind of actress and person that I hope to be. Becoming yourself is really hard and confusing and it's a process."
The actress revealed she was always an "eager beaver" at school, saying: "I got teased mercilessly but if you pour your heart into things, amazing things can happen."
The most successful film of the night was 'The Avengers', which picked up the top gong of Movie Of The Year, along with Best Fight and the film's Tom Hiddleston awarded Best Villain.
'Silver Lining's Playbook' also picked up threes gongs, including Best Male and Female Performances for stars Bradley Cooper and Jennifer Lawrence.
The ceremony's host Rebel Wilson also won two awards - Breakthrough Performance and Best Musical Moment.
The winners of the 2013 MTV Movie Awards in full:
Movie of the Year: 'The Avengers'
Best Male Performance: Bradley Cooper, 'Silver Linings Playbook'
Best Female Performance: Jennifer Lawrence, 'Silver Linings Playbook'
Breakthrough Performance: Rebel Wilson, 'Pitch Perfect'
Best Villain: Tom Hiddleston, 'The Avengers'
Best Hero: Martin Freeman, 'The Hobbit: An Unexpected Journey'
Best Kiss: Jennifer Lawrence and Bradley Cooper, 'Silver Linings Playbook'
Comedic Genius: Will Ferrell
Best Shirtless Performance: Taylor Lautner, 'The Twilight Saga: Breaking Dawn – Part 2'
Best Fight: Robert Downey Jr., Chris Evans, Mark Ruffalo, Chris Hemsworth, Scarlett Johansson, Jeremy Renner, and Tom Hiddleston, 'The Avengers'
Trailblazer Award: Emma Watson
Best WTF Moment: Jamie Foxx and Samuel L. Jackson, 'Django Unchained'
Best Musical Moment: Anna Kendrick, Rebel Wilson, Anna Camp, Brittany Snow, Alexis Knapp, Ester Dean and Hana Mae Lee, 'Pitch Perfect'
MTV Generation Award: Jamie Foxx
Watch the MTV Movie Awards in full at 9pm tonight (Monday 15 April) on MTV
All the pics from the show...

LIKE US ON FACEBOOK | FOLLOW US ON TWITTER