Beyoncé kicked off her world tour on Monday – and pulled out all the stops to ensure there was no repeat of her "muscly" appearance at February's Superbowl.
Only two pictures of the 31-year-old were officially released by the singer's management company – and quelle surprise she looked marvellous in both.
Featuring her in a backlit demure, feminine pose, the images are a stark contrast to the unfortunate split second shot caught in New Orleans, which spawned a thousand memes.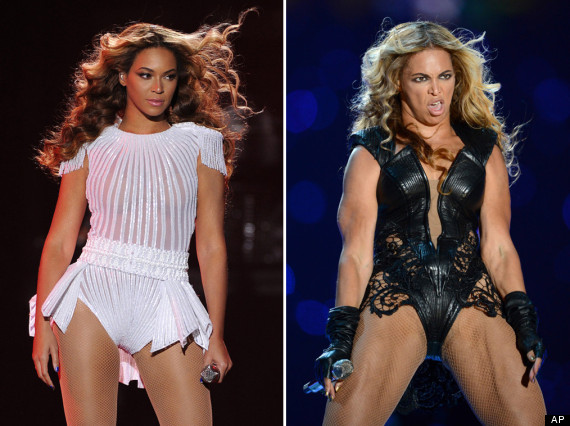 Pretty in pink: Beyoncé at Monday's concert in Belgrade (left) and at the New Orleans Superbowl half-time show in February (right)
According to sources, Beyoncé's publicist Yvette Noel-Schure went as far as to contact Buzzfeed to request the removal of the "unflattering" Superbowl shot. She listed a further six pictures she deemed "worst" in the feed, "respectfully" asking for them to be changed.
Further, non-official snaps were taken from within the crowd at Monday's opening gig at the Kombank Arena in Belgrade, Serbia and are now circulating via various agencies – thought there's no word on what the singer makes of those.
Scroll down for more pictures Beyoncé's Mrs Carter World Tour 2013 kicked off at Belgrade's Kombank Arena on Monday
Dressed in a white embellished bodysuit by couture designers Ralph & Russo, Beyoncé showed off her pins as she belted out hits including 'Single Ladies' and 'Crazy In Love', later changing into a sparkly blue catsuit.
She is set to bring the show to the UK later this month, playing six nights at London's O2 Arena.
The tour totals 65 dates across Europe, North America and South America, and will finish in September in Brazil.