Sports Minister Hugo Robertson has also urged runners to show defiance in the face of the disaster, adding: "The very best way to show solidarity with Boston is to get out there on the streets of London to cheer the runners on and to show that we won't be defeated by this sort of activity."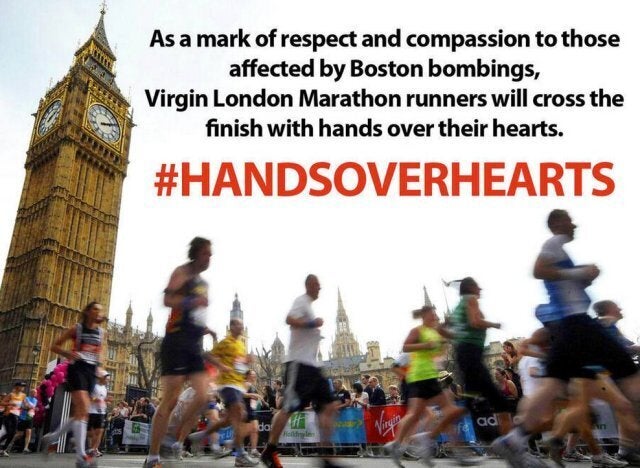 Runners are being urged to run with 'hands on their hearts'
Running organisation Spat, or Social Purpose And Time, which uses running to try and help young homeless people to get back on track, began the trend and the hashtag #handsoverhearts has now been tweeted hundreds of times.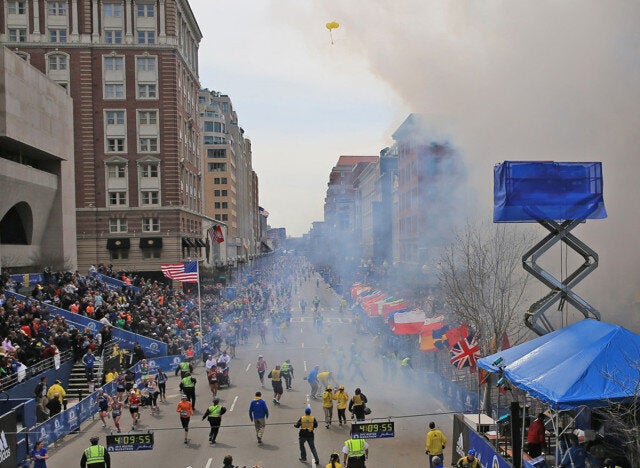 Over 150 people are believed to have been injured
James Gilley, founder of Spat, told the Huffington Post UK he wanted to harness the power of running to bring people together.
He said "We started it with our friend Lucy who's running the marathon. With what we do as Spat we've seen first hand the way everyone comes together with running.
Lucy MacNamara is running the marathon for New Horizons Youth Centre, which partners with Spat
"What happened in Boston was just so horrible and we wanted to try and make a positive statement from such a negative event. We wanted to make a statement of solidarity with those in Boston.
"I'm really happy it's taken off in the way it has. "
The London Marathon route passes some of the nation's most recognisable landmarks such as Big Ben and Parliament Square and attracts half a million spectators each year.
The flat and fast course, starting in Blackheath and finishing in front of Buckingham Palace, takes in other top tourist sights including Tower Bridge and Canary Wharf - one of the largest single business developments in the world.
The London Mayor said: "The bombings in Boston are shocking, cowardly and horrific, and the thoughts of all Londoners this morning will be with the victims. Boston is a proud city built on history, tradition and a real sense of community.
"These attacks were aimed at its core, at innocent men, women and children enjoying a spring day out at a major sporting event.
"We do have robust security measures in place for Sunday's London Marathon but, given events in Boston, it's only prudent for the police and the organisers of Sunday's race to re-examine those security arrangements."
Related