Britain's most senior police officer said security around Baroness Thatcher's funeral and the London Marathon will be stepped up in the next few days following the bombings in Boston.
Sir Bernard Hogan-Howe said that more searches will be carried out and there will be a greater number of officers on the streets. Sunday's London Marathon will go ahead as planned
Speaking outside Scotland Yard, he said: "I just want to reassure people that we've got some really good plans in place. We're doing an awful lot of work already to keep London safe and I'm sure that will happen over the next few days.
"We are reviewing our plans which is sensible, but our reassurance is that we will keep people in London safe.
"We will increase searching, we will make sure we've got more officers on the street looking after people, making sure they're safe. We've no reason to think they're any less safe than they were before the terrible events in Boston yesterday."
He said "no obvious link" has yet been discovered between the atrocities in Boston and the United Kingdom.
"Obviously the Americans are trying their best to discover who committed this heinous crime and where they are. They're doing their best to explain to us what's happening and we're talking to them all the time.
"We're just taking more precautions that we might have done otherwise. It's a very reasonable response to an event such as we've seen.
"We'd be professionally irresponsible if we didn't take some reasonable steps and you would be asking me questions 'what are you doing to look at the London Marathon?'
"It's a very sensible thing to review our precautions. First of all we'll deal with the events tomorrow, the funeral in London of Baroness Thatcher, and make sure that's carried out safely, and then we'll address our concerns towards the London Marathon on Sunday.
"In between times we'll hopefully get more information from the Americans as they try and work out what happened, who committed this crime, and it may be of course that there is no link at all to the United Kingdom, in which case any potential threat against the marathon is defused."
Earlier, organisers of the London Marathon said that the race and associated events will go ahead as planned.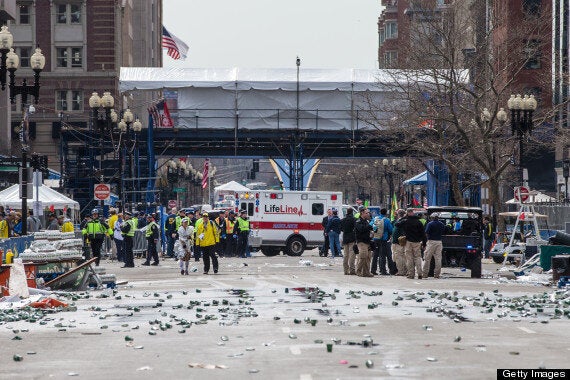 Rescue workers at the scene after the Boston Marathon bombings
London Marathon chief executive Nick Bitel said: "The support we have been offered by our stakeholders and the wider running community has been outstanding. We have the full support of the Metropolitan Police, the mayor's office and other authorities.
"We want to reassure our runners, spectators, volunteers and everyone connected with the event, that we are doing everything to ensure their safety and that the Virgin London Marathon 2013 is an outstanding success."
The race route passes some of the nation's most recognisable landmarks such as Big Ben and Parliament Square and attracts half a million spectators each year.
The flat and fast course, starting in Blackheath and finishing in front of Buckingham Palace, takes in other top tourist sights including Tower Bridge and Canary Wharf - one of the largest single business developments in the world.
London mayor Boris Johnson said: "The bombings in Boston are shocking, cowardly and horrific, and the thoughts of all Londoners this morning will be with the victims. Boston is a proud city built on history, tradition and a real sense of community.
"These attacks were aimed at its core, at innocent men, women and children enjoying a spring day out at a major sporting event.
"We do have robust security measures in place for Sunday's London Marathon but given events in Boston it's only prudent for the police and the organisers of Sunday's race to re-examine those security arrangements."
London Marathon organisers announced on Tuesday that there will be "a period of silence lasting 30 seconds" before the start of the elite men's race and mass start on Sunday. Baroness Thatcher's funeral takes place on Wednesday
Organisers are encouraging runners to wear a black ribbon at Sunday's race, as a show of solidarity with those affected in Boston. Ribbons will be given to runners when they pick up their race number.
Race director Hugh Brasher said: "We want to show our support for our friends and colleagues in Boston at this difficult time for the global running community.
"We are determined to deliver an amazing event that will focus on one of the core pillars of the London Marathon, which is 'to have fun and provide some happiness and a sense of achievement in a troubled world'."
Popular in the Community