A three-time cancer survivor has revealed a tattoo of fairies and butterflies in the place where her breasts once were.
Kelly Davidson submitted the candid snap to Facebook's Why We Ink page, which hosts images of those marking their own battles with the disease or honouring loved ones who lost theirs.
In the caption that accompanies the post, Davidson writes her "tattoo symbolises a transformation, my metamorphosis, like a butterfly I changed on the outside but remained the same on the inside."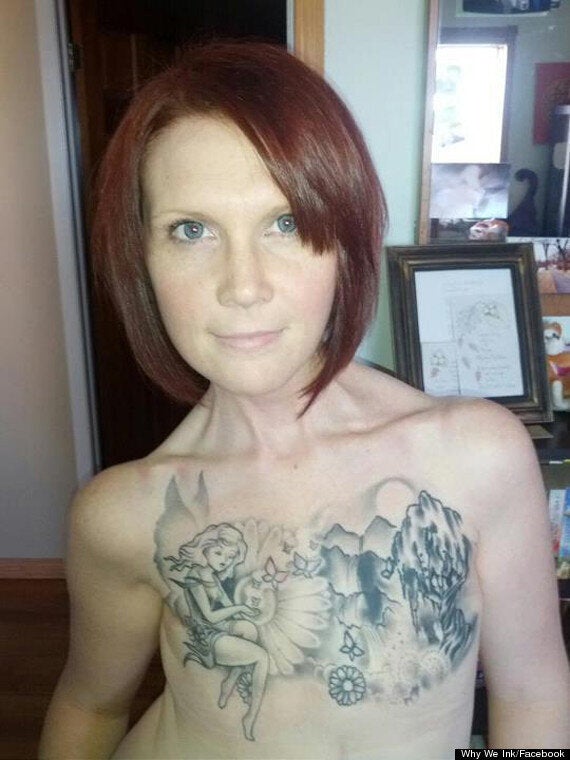 Kelly Davidson says her tattoo 'symbolises her transformation' after cancer
"It is my badge of honour and strength, a piece of beautiful art that I wear with pride because it represents how I kicked cancer's ass and how breasts don't define who I am as a person or a woman."
At 28 she contracted breast cancer and had a double mastectomy, and two years ago she beat thyroid cancer. The 34-year-old is a three-time cancer survivor
Explaining why she opted for a tattoo instead of reconstructive surgery, she told City News: "I went to a seminar in regards to reconstructive surgery I decided that I wasn't going to have reconstruction.
"I thought about it and talked to my parents and thought there's more to me than breasts so that's kind of how the whole tattoo was born.
"I have this beautiful piece of art that I get to look at every day and it doesn't bother me to think that I don't have breasts."
Casting director Jules Fitzsimmons set up the Why We Ink page last year and is creating a coffee table book of images shared, with all proceeds going to cancer support groups.

Why We Ink