A heavily pregnant woman who fell to her death from a car park before her three young children were found dead had split up with their father the previous night.
Police were called out yesterday at 8am to the death of the woman, named locally as 21-year-old Fiona Anderson, who had suffered fatal head injuries at a multi-storey car park.
Officers investigating the incident later found the children - named by neighbours as Levina, three, Addy, two, and 11-month-old baby Kyden - at their home in London Road South, Lowestoft, Suffolk.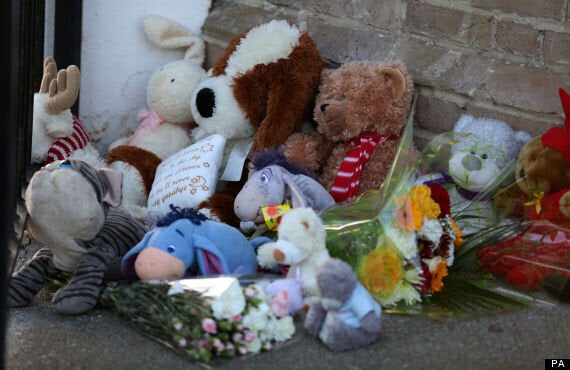 Tributes left outside the home of Fiona Anderson and her children
Next door neighbour and friend Megan Smith, 19, today said that Ms Anderson had split up with boyfriend Craig McLelland the night before the tragedy.
She had a tendency towards depression, had asked social services for help and worried that her children would be taken away from her, Ms Smith said.
"She was crying out for help because she was depressed, she couldn't cope.
"She had three kids, she was 21 years old, pregnant with her fourth - hormones take over, three kids under the age of three is a lot to take on at the age of 21.
"She was a lovely, bubbly person, she kept herself to herself, she did the best by her kids, her kids didn't want for anything."
Ms Smith said her friend had turned 21 last month and was due to give birth to her fourth child, who she was planning to call Evalie, on May 6.
She could not say why Ms Anderson and Mr McLelland, who lived in separate houses, had split the night before.
The area where the children were found is nicknamed "Brown Town" locally because of problems with heroin addiction.
But Ms Smith denied rumours that her friend took drugs or had a drinking problem, saying: "She didn't even smoke."
She also explained that police had knocked on Ms Anderson's door on Sunday night and shined a torch inside but had left without taking further action.
Police said today they were still awaiting the conclusion of post-mortem examinations before formal identification could take place.
Tributes continued to pour in outside the house at the Victorian terraced house where the family lived, with children's toys and flower bouquets piling up.
One card read: "Thinking of your family and friends at this really sad time. May you all rest in peace. Heart breaking and sad.
From a family that don't know you but was saddened by this."
Mr McLelland sobbed as he visited the scene again today to leave flowers.
Hugging his mother Amanda McLelland as they both cried, he told reporters "get out of my face" as they left.
If you are affected by any of the issues raised call The Samaritans on 08457 90 90 90