When the British Lions fitness coach called The Huffington Post to see if we'd like one of our reporters to train with the players we knew exactly who we'd send down. Here's Felicity Morse's account of a day working out with some of the toughest competitors in the world.
Training with professional rugby players and coaches is a chance most fans would leap at, but I accepted the challenge for different reasons.
With bottoms like boulders and rippling thighs, I've long considered rugby men the tastiest of team players. Such groin-led reasoning saw me salivate my way to Surrey Sports Centre, unaware of the miserable mud-drenched workout ahead.
Muscle-spasming torture, from bear crawling over boggy ground to hauling tractor tyres, had been planned to test our spirits. The Worcester Warriors coaches started us off, barking instructions like pre-battle counsel.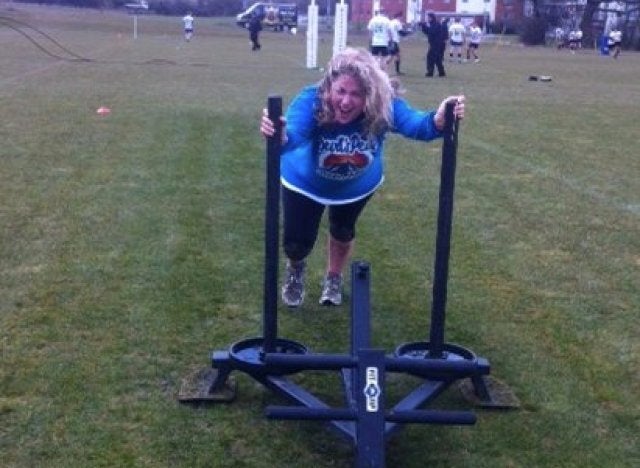 I had no idea what was I was in store for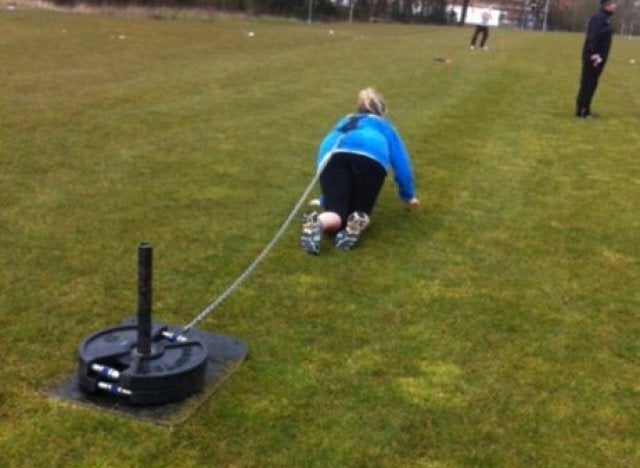 Stuart Pickering, head of strength and conditioning, laid down the ground rules to me and 20 other male rugby enthusiasts.
"Look lads, this is not a cock-off." He growled, eyeballing us all.
"I don't want anyone getting injured because they're trying to be a hero."
Press-ups, squats, weights and jumps are performed under your partner's watchful eye, making it difficult to slacken off.
"If you can't use your glutes you might as well play ping pong," Pickering barks, in a far cry from my yoga teacher, who spends the bulk of the class telling her yogis how amazing they are.
Josh Lewsey's watching at the sidelines, in all moody and gorgeous glory, ramping up the pressure.
My press up followed by a jump results in some prayer-like floor kissing followed by a kind of pathetic twitch into the air. Lewsey yells 'higher, higher' causing some cringe-worthy leg-jerking on my part, but no real airtime.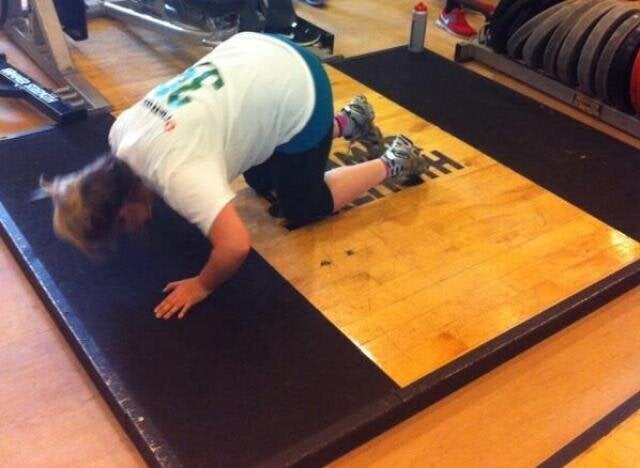 The sets keep coming, long after my muscles have turned to jelly. I don't know how professional rugby players keep going.
Ryan Fisher, another Strength and Conditioning Coach at Worcester Warriors, claims the team doesn't need the same encouragement as you or I would.
"You're dealing with a different breed of people who are already highly motivated. The best way to keep them motivated is reward them if they've had a week of heavy training, so by giving them a day off for example."
Getting psyched up before a match is apparently treated with the same 'hands off' approach, with each player having their own private rituals.
"They've been doing it for years so you can just let them do their own thing. Andy Goode brings his own socks before a match, where as James Percival [the captain] once he puts his scrum hat on he just turns into a different beast."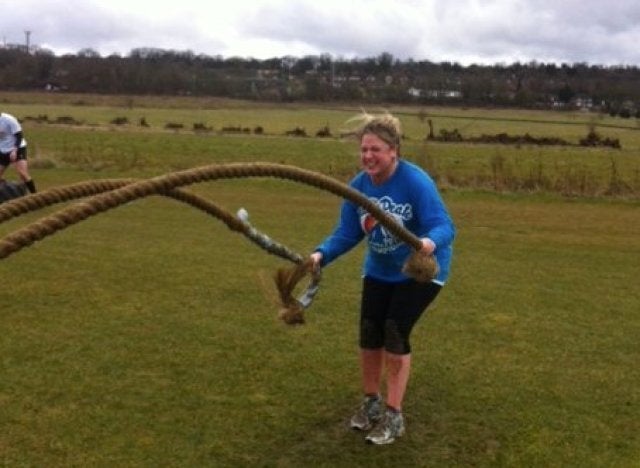 Another of the gruelling exercises. The thick ropes are tied 20m from the try line
Beast seems about right. Paul Strigeon, Lions Fitness Coach, calls the game "a battle of attrition"
"It's basically full combat, wrestling with running in between," he says.
"The boys are in pieces in the changing rooms after the match. They're just so tired, they don't know what to do with themselves."
It seems rugby is something of gentleman's war, with players and coaches getting a bigger thrill the dirtier, grittier and more gruelling the conditions. The London Wasps coaches take us out for some warm ups and touch rugby. It's all amateurs together, but I'm the only girl.
It's dank, cold and misty before we even begin, with overhead clouds threatening their worse.
Academy coach Chris Lloyd seems to relish the prospect. As we line up, the first drops of wet misery begin to fall.
"Come on the rain" he yells at the skies, like some sort of Southern Braveheart. "Bring it onnnnn. This is what it means to be British, boys."
The rain falls harder, and as we run, it stings your face, drips off your nose and slashes your skin red raw.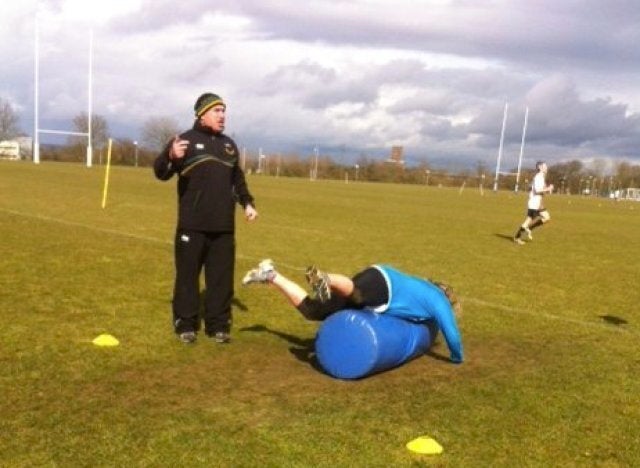 The back of my throat tastes metallic from running, I can't feel my feet, and my mascara's dripped so far down my face it looks like a hastily scrawled goatee.
It's clear discipline is king.
"Who's the most important person on the pitch" coaches repeatedly ask, to a chorus of "you coach."
Tips for training with professional Rugby coaches

Run for the gaps, not for the people. If you run for the people "you won't last long."
Focus on your lower body strength. It's this you use in a scrum.
Don't mention Wales
Start repeating exercises five times to improve strengths. Five sets of five reps improves muscle mass and allow you to pick up heavier weights.
Listen to your coaches. They are your best friend (as well as your worst enemy)
Don't swear during training.
Don't be afraid to ask questions. They like it.
Don't stare at their ears or you'll get yours boxed.
Oh and that celebrity stuff? They call it 'the sideshow'. Don't let it ruin your focus.
The importance of communication is hammered at the players. The coaches don't use whistles in training because "if you can't listen then you're finished as a player."
Lloyd explains "we want the players to respond to whistles only when they hear the ref's whistle in a match, when they've done something wrong."
But despite the coaches' best efforts to include me, the boys won't pass me the ball. I'm almost invisible, the closest I get to acknowledgement when somebody literally trips over me.
I get the same frosty reaction when we head to the conditioning section as I'm left the only one without a partner.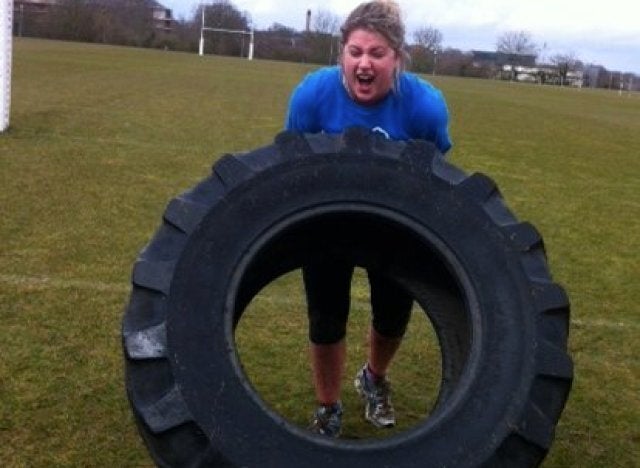 Channelling Boudicca's spirit I soldier ahead, thrashing thick ropes tied to the try frame and attempting to beat the pitch bald.
There's a lawnmower type contraption which is impossible to push, and my favourite: a blue plastic sausage you essentially run at and tackle to the floor. It's great fun.
Yet underneath this boisterous masculinity, I sniff misogynistic rumblings.
It's clear rugby's considered a man's game and to define it as anything else undermines players' strength and power.
The tempo of "lad's banter" automatically excludes a woman from entry. Conversations about how to imbibe 5000 calories a day were peppered with comparisons of thigh girth and despite expounding my love of cheesecake and expanding waistline, I was regarded with suspicion.
I overheard someone saying you should "punch a ball like you would your wife and girlfriend". It was a joke that wasn't meant maliciously, but it was an irresponsible remark from people used to being in a male only environment.
I'm not in a position to criticise. Shameful objectification of bicep and quadricep led me to the pitches in the first place, panting with all the frenzied enthusiam of a ferret on heat
While I balked in awe at the ribbons of muscle that rippled before me, I was also impressed by their owners' discipline. Rugby is hard. Don't do it.