When it comes to EA, any year is a game of two halves: there's the half where you're promoting the FIFA that's on sale, and there's the half where you're looking ahead to what's next.
And now the half-time oranges are eaten and the team-talks are given, it's time for the second half.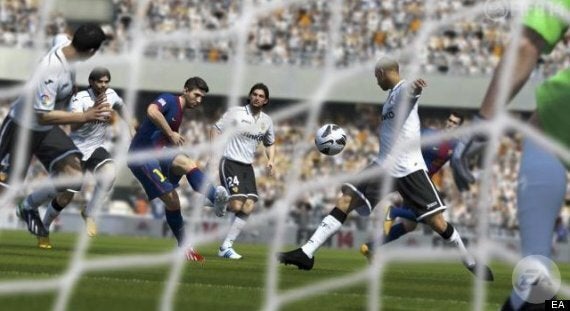 Among the expected changes are:
An all-new career mode with a simple 'hub' interface
A greater focus on midfield play
The return of 'after-touch' in some capacity
New ball physics
'Protect the ball' defence enhancements
Better teammate intelligence
New dribbling options and features
More than 500 officially licensed clubs
"FIFA 14 will play the way great football matches are contested with build up through midfield, tension throughout the match as chances are created, and incredible finishing," said David Rutter, Executive Producer for FIFA 14.
"Opportunities in FIFA 14 will be rewarding and great goals will look stunning."
Several websites have been given sneak previews into the new title, and a few details have begun to emerge about what to expect from the next iteration of EA's familiar, but loved, game of virtual kick-shoot-ball.
Here's what a few of them had to say:
VG247: "Tackling has also been improved, with a wider tackling zone meaning you can now string together a variety of 'Second Chance' tackles, should your first attempt to nab the ball fails. You can also recover from missed tackles much faster depending on how you react."
Guardian: "for Fifa 14, the big emphasis is on build-up play, on anticipation and on off-the-ball movement; it's about driving through the midfield, rather than lofting balls over it."
Eurogamer: "If it works - FIFA 14 remains hands-off for now - it'll mean there's less "cheapness" and repetition to FIFA's attacking play. With FIFA 13, common types of attacks and goals have emerged. With FIFA 14, because your strikers will find it harder to find space, you, the player will find it harder to carve out chances."