Martin Richard's father has spoken of his heartache after his eight-year-old son was killed and daughter and wife seriously injured in the devastating bombings of the Boston Marathon.
Martin Richard was among three people killed in Monday's blasts as he waited with his mother and two siblings to watch his father Bill Richard cross the marathon finish line.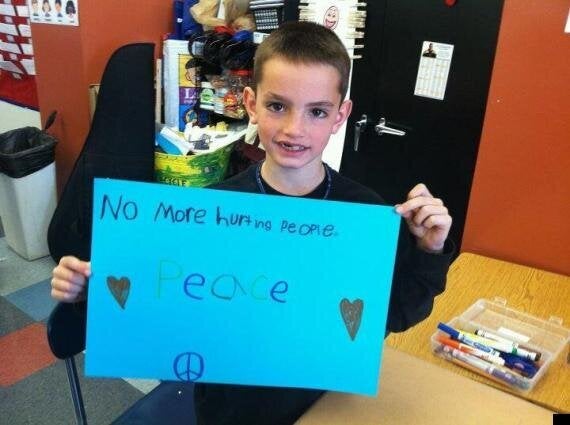 Martin Richard holds up a handmade 'Peace' poster
As well as claiming Martin's life, the explosion reportedly tore off one of five-year-old Jane's legs and delivered a blow to the head that gave Denise, 43, serious brain injuries.
Details of the devastating impact on a single family came as FBI agents vowed to "go to the ends of the earth" to hunt the culprits.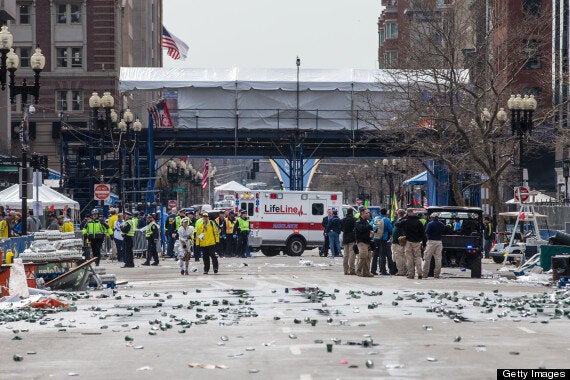 Rescue workers responded to the scene following two explosions on Boylston Street in Boston near the finish line of the Boston Marathon
Krystle Campbell, 29, from Arlington, Massachusetts, who had been watching her boyfriend run the marathon, was named as the second spectator to have been killed in the attacks.
The Chinese Consulate in New York said this morning that the third was one of its citizens, a Boston University graduate student. Martin was killed in the attack. He was eight
In a statement issued to US media, Martin's father said: "My dear son Martin has died from injuries sustained in the attack on Boston. My wife and daughter are both recovering from serious injuries.
"We thank our family and friends, those we know and those we have never met, for their thoughts and prayers. I ask that you continue to pray for my family as we remember Martin.
He added: "We also ask for your patience and for privacy as we work to simultaneously grieve and recover. Thank you."
News outlets have published a photograph of Martin, from Dorchester, Massachusetts, holding a poster he drew in an art class last year, with the message, "No more hurting people".
The White House said last night that President Barack Obama will travel to Boston tomorrow to speak at a service dedicated to those killed and more than 170 injured, including 17 critically, by the explosions.
Miss Campbell's father, William, described his daughter, who worked for a restaurant consultancy firm, as a "wonderful, wonderful girl.
He told reporters: "She helped everybody, and I'm just so shocked right now. We're just devastated.
"She was a wonderful, wonderful girl. Always willing to lend a hand."
The student killed was one of three friends who watched the race near the finish line, Boston University said.
The Chinese Consulate released a statement saying she was a Chinese national, whose identity would not be released at her family's request.
Another Chinese citizen was among the injured and was in a stable condition after undergoing surgery, it added.
Mr Obama has confirmed the FBI is investigating the tragedy as an act of terrorism, as police recovered fragments of black nylon that may been from a bag used to conceal one or both of the bombs.
Speaking at a press conference, he said: "This was a heinous and cowardly act. The FBI is now investigating this as an act of terrorism."
But he added: "The American people refused to be terrorised. What the world saw yesterday in the aftermath of the explosions were stories of heroism and kindness and generosity and love."
Richard DesLauriers, the special agent in charge of the Boston FBI office, said there would be a "worldwide investigation".
"We will go to the ends of the earth to find the subject or subjects responsible for this despicable crime," he said.
There were no immediate claims of responsibility for the attack, the most serious in the US since the 9/11 atrocity.