A bus driver who died after a coach carrying ski resort staff crashed in the French Alps has today been named.
Maurice Wrightson, 64, who worked for Classic Coaches, based at Annfield Plain, County Durham, was driving more than 50 people on their way back from Alpe d'Huez when the vehicle left the road yesterday.
Police suspect there was a problem with the vehicle's brakes, causing it to veer off the road and smash into rocks before bursting into flames.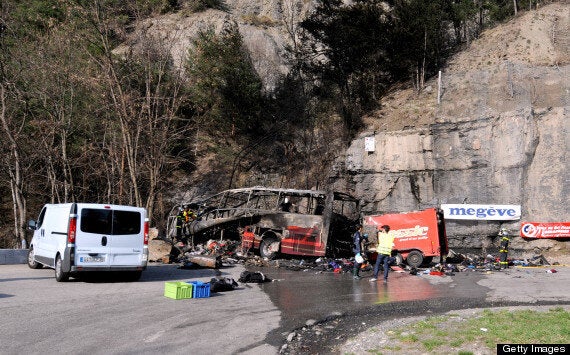 Some passengers escaped by jumping from the windows
UK travel organisation Abta said the Britons were staff on their way home having been working for a Brighton-based ski company.
Several passengers escaped from the burning wreckage by jumping from the windows.
At least four people were said to have been seriously injured, with those hurt being treated in local hospitals.
A helicopter was scrambled to the scene where firefighters battled to put out the flames.
A local police spokesman said: "There was apparently a problem with the coach's brakes.
"The driver seems to have lost control on a steep bend in the road and his vehicle crashed into rocks.
"It burst into flames but everyone is now out. Some passengers escaped by jumping out the windows."
The Foreign and Commonwealth Office today confirmed Mr Wrightson died following the incident.