It's common to see flowers laid as tribute at accident sites and graves.
But it's not every day you spot a lone pansy sprouting by the pavement.
If you do, you might well have come across the art of Paul Harfleet.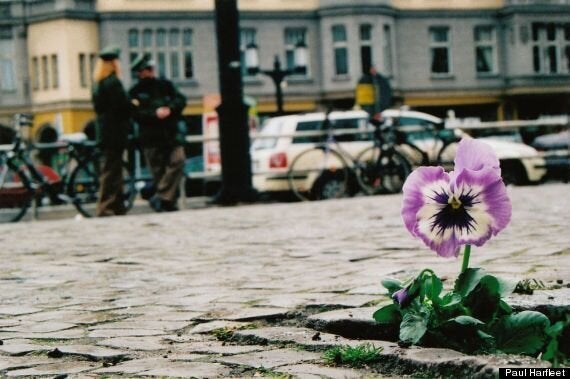 The Pansy Project is the brainchild of artist Paul Harfleet
The 37-year-old plants a pansy at the site of homophobic crimes, and over time has seen his acts of "guerrilla gardening" morph into The Pansy Project.
Pansies have so far sprouted in Manchester, Turkey, Berlin, Austria and New York, and this summer he plans to install 100 of the cheerful little blooms in London.
Harfleet's flowers have made their mark at the scenes of high profile attacks and murders, in spots where he himself has been the target of homophobic abuse, as well as lesser-known locations, to which he is alerted via his network of Twitter and Facebook contacts.
In others, the snap is usually titled with the slurs used, such as "I think he's a queer, shall we kill him?", "fucking faggot", or "punched, beaten" to describe the attack.
He told Huffington Post UK: "In general responses to my project have been positive and complimentary.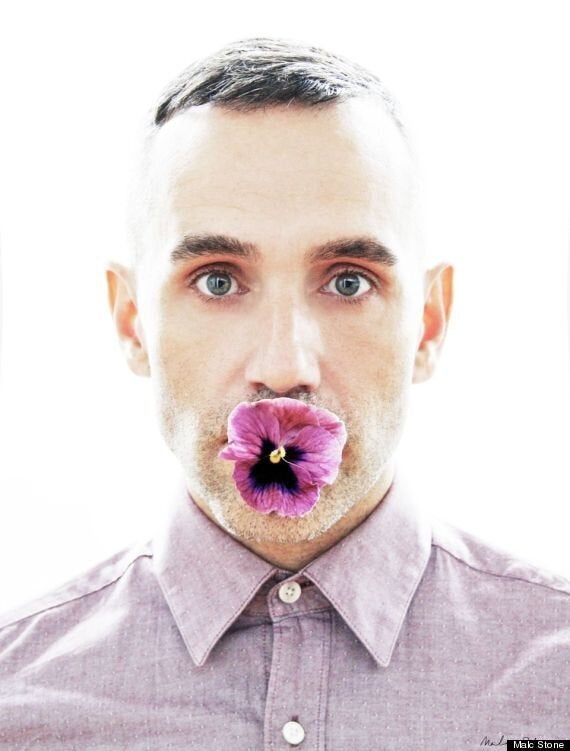 Harfleet was inspired by his own experiences of homophobia
"There was only one time I was called a 'fucking faggot' while I was planting a pansy. It was quite odd as it meant I was going to have to plant another one to mark that abuse…"
Writing in Glow-Lab several years ago, Harfleet explains how the catalysing moment for his project began with "a string of homophobic abuse on a warm summer's day.
"The day began with two builders shouting; 'It's about time we went gay-bashing again, isn't it?', continued with a gang of yobs throwing abuse and stones at my then boyfriend and me, and ended with a bizarre and unsettling confrontation with a man who called us 'ladies' under his breath."
As for why he opted for the pansy, which of course is also an offensive slang term used to refer to an effeminate or homosexual man, he reveals: "I liked the idea of queering up a street, in some way."
Harfleet is happy to hand out cards or explain his actions to any curious onlookers who come across him during his random acts of gardening.
He told us: "Generally people think I've fallen over as the best way to photograph the pansies is by lying on the pavement."
Most recently Harfleet was planting a pansy outside London's Kings Cross Station close to an Islington Council building.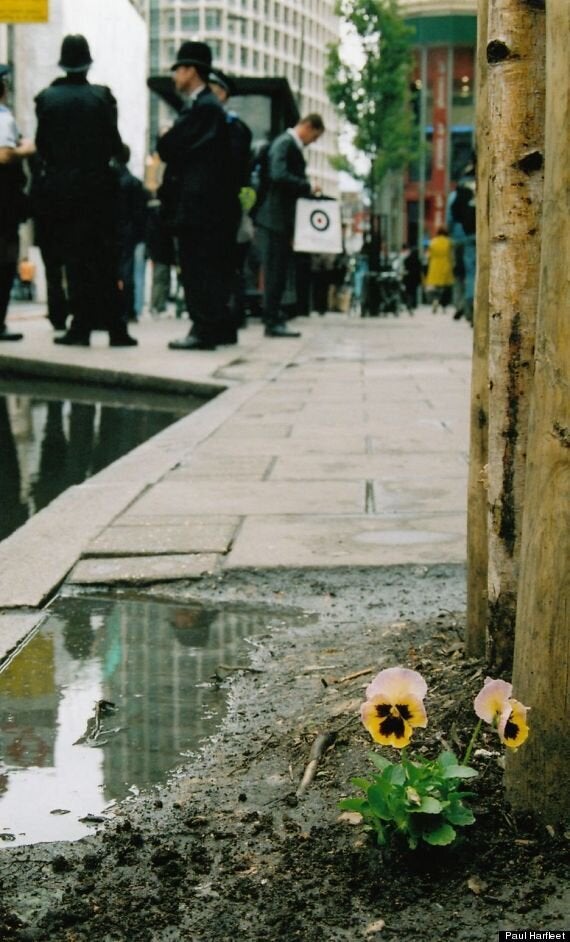 The pansies sprout at the scenes of high profile attacks and lesser-known spots too
He said: "A member of staff from the council came out and told me I'd have to remove it because it was council property.
"He was pleasant enough about it and agreed when I asked him if I could photograph it before removing it.
"While I was taking the photograph another staff member recognised what I was doing and came out the building."
Happily the man was able to pull some strings, and Harfleet informs me: "It's still there."
So, next time you find a cheerful little pansy in a place where it probably shouldn't be, take a moment to consider what it might mean.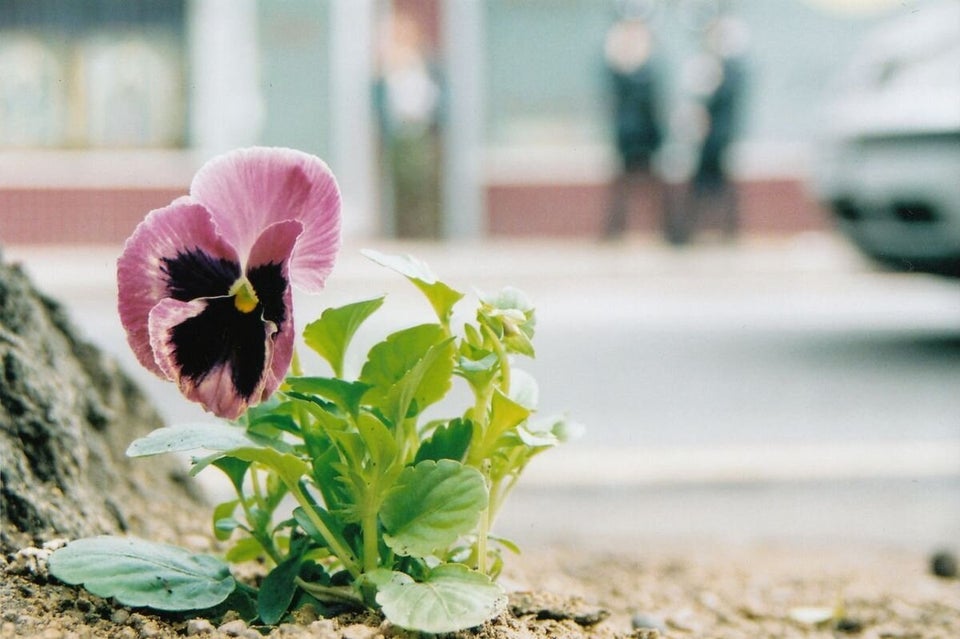 Paul Harfleet's Pansy Project