With a Motown-inspired new single (which is a belter, we should say), and their debut album finally in the bag, Stooshe are fully armed for battle to become the nation's new favourite girlband.
And as they ready themselves to steal Girls Aloud's former crown, ahead of the release of 'Slip', we sit down with Courtney, Karis and Alexandra to chat chart rivalry, 90s pop and why they'd never audition for 'X Factor'.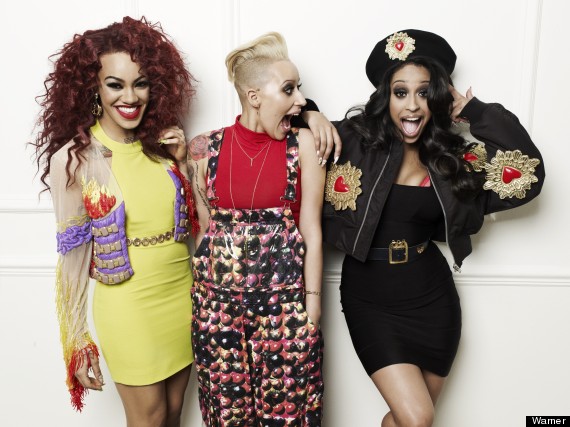 You have been away for a while after you pushed back the release of your album - is 'Slip' the sound we can expect more of?
Alexandra: Yeah, we tried the ballad route with 'Black Heart' and then the 'Love Me' route and we thought, let's bring back then old Stooshe sound and have fun again.
Karis: We've got a couple of other songs that are quite Motown, but we love the pop side of what we do, so we've put both of them together and will see what happens.
There seems to be a lot of hype around 'Slip'? Do you feel the pressure for it to perform?
Courtney: We haven't been around for a couple of months, but it has been mad - there's been a crazy response.
There's a lot of chatter about girlbands at the moment. With Girls Aloud splitting up, you couldn't have timed this single better, right?
K: We didn't know they were going to split!
A: It's not like we said, 'we were going to go away for a bit' when we put the album back. We wanted to put on three more tracks so that we were all happy with the direction in which we were going. And we're very happy!
Pop has been about the boys for a long time with One Direction and The Wanted - is it time for you to do it for the girls?
C: We hope so!
K: Definitely! People love to play girlbands off against each other, but there is room for everybody. If we're going to be competing with anybody, there are hundreds of other artists, not just girlbands. We're just so happy to be in this industry, but it definitely is the right time.
But who do you think has the biggest similarities to you in the charts at the moment?
K: Little Mix.
A: I think Little Mix as a girlband, but we don't do the same thing. They have a younger audience and are very poppy.
K: People tell us that they are our competition, but we're doing our own thing and they're doing theirs. But maybe Bruno Mars or Olly Murs in terms of sound.
The Saturdays recently had their first number one - did you secretly want to topple them?
K: We wouldn't really want to - they're so talented! They've worked really hard for ages. We've met Rochelle a couple of times, and we know Marvin and it's a sisterhood.
We've already got the bad boys of pop in the form of The Wanted, so we need some bad girls - would you be up for it?
A: Are you trying to tell us something?!
C: Definitely!
K: We were talking about what makes the papers the other day, and it would be funny if we were that girlband falling out of clubs, but for some reason we just never get caught (laughs).
C: You never see the paps in Brixton because they're all in central London, and we go out locally.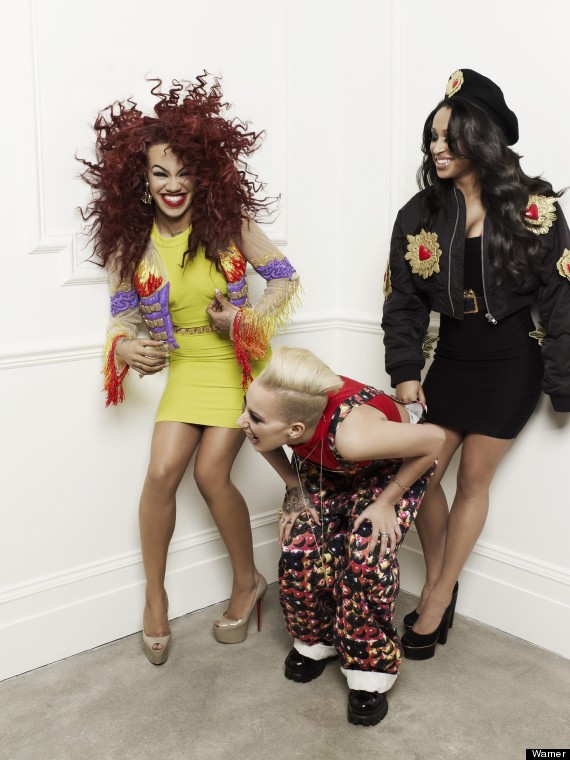 Lots of bands from the 90s and 00s are coming back into the charts thanks to 'The Big Reunion' - could you ever see yourself ever doing that show in the future?
A: I think we'll do it like the Spice Girls. We have no issues to be working out in 10 years time.
K: If you really love your girls, you wouldn't really want to expose things - you'd keep things to yourself.
C: As much as I understand you're adults and you work through stuff, I would not do that regardless. I would not exploit it. You have a bond and it is like family.
What do you think the difference between being a band back then and being one now is?
K: It is different. I would like to say it is a bit more real now. We were thrown together to see if it would work - it was organic.
A: A lot of 90s bands were put together through auditions or were found through being at stage school so they were used to the spotlight. And back then, they had so much money that they allowed you to think you were the solo artist. I remember seeing Blue (on 'The Big Reunion') and one of them couldn't even go in their own dressing room because Lee was rehearsing. Do you think if someone said that to me, I wouldn't be like, 'open that door!'? I'd be like, 'get her out!'. Everybody wanted the top spot, but we're all a team. It doesn't have to be like that now.
Who were you pleased to see come back on the show?
K: Five! I went to their concerts and screamed like a baby.
C: Because there's quite a lot of boybands, I feel like there was so many men on the show. So when you saw Atomic Kitten and the Honeyz it is nice.
K: You can't knock it. I look and it and I'm like, 'cringe', but then I think, 'that was your dream and you want to live it again. I don't blame you'.
You worked with director Bryan Barber on the 'Slip' video - who would you like to collaborate with musically?
K: We'd love to collaborate with people but we wouldn't want to do it for the sake of it by just throwing money at them. We'd love to work with someone like Andre 3000, because he is just a G and I love him. He's really cool and doesn't take himself too seriously.
If you hadn't found fame in the band, would you have considered a show like 'The Voice' or 'The X Factor'?
K: Personally, no. I would never say never. I'd be too scared to stand up in front of those judges as well.
C: Once you get to a certain point in 'The X Factor', you're thrown into the media and that's quite difficult to go straight into, while we've done this and worked at it. When you're a band in the media, some people don't know how to cope with it and I think it's very hard. But it is an amazing opportunity.
K: They're thrown into fame, they're not thrown into the industry of working hard. We were signed and people didn't even know who we were. Jessie J was signed for five years before she even released a song. People develop, because that's what you have to do to be a real artist. People in these shows are thrown into the fame side of it and are doing everything at the same time. I don't know how they do it.
A: We performed on 'Xtra Factor' - and I love 'X Factor' - and you watch it and everyone is standing up clapping for them. But if they went down to the club at the end of the road, people would be like, 'what the hell are they doing?'. But they're in a studio and a controlled environment.
K: We had people boo us at a uni gig two years ago, so you might not be as thick-skinned to deal with that, having been congratulated by 17 million people.
Would you like to perform on 'The X Factor'?
K: Definitely!
C: We were with Simon (Cowell) the other day, and for some reason we didn't ask. Next time we see him, I'll have to ask, 'so when are we on it then?'
K: Syco was the first label we showcased for. We went in to Syco in our crazy outfits and sang for him. He offered us a deal on the spot but we just couldn't come to creative control agreement. We weren't willing to give up everything, and he wasn't willing to give away anything. So it just wasn't going to work out - we wanted to do this for the music and not anything else.
A: We just couldn't come to an agreement, but we have a really good relationship with Syco.
C: He refers to us as 'trouble'. He's cool, man.
Can you tell us something we wouldn't know about you?
K: We are so not mysterious! I was going to make up a lie then, but it's so not worth it!
A: I'm a princess in Ghana, but people already know that I think.
What's the craziest thing you've read about yourself?
A: Wikipedia said we are a Ghanaian hip-hop group!
What's your biggest ever slip-up on stage?

C: Clothes. I remember wearing something that was too short for me and vowed never to wear it again.

A: I was on stage and my mic pack fell off and Karis tried to pick it up, which pulled up my skirt to an arena when we were touring with J.Lo (all three fall into hysterical laughter).

K: After that, the wrong track was played three times after we introduced another song. We were mortified!

What's the biggest slip of the tongue you've ever had?

K: Swearing on the radio.

C: I swore on Radio 1 at the Brits live on air. I've said brands on air too.

When's the last time you were caught slipping out of somewhere you didn't want to be seen?

A: We told you, we don't get caught! Stooshe never slip.

Who was the last person you gave the slip to?

A: A tw*t of an ex, or probably a friend.

What have you let slip recently which you wish you hadn't?

A: I told the girls a secret I wish I hadn't have. It was about my boyfriend and I told him I'd told the girls and he was like, 'how dare you do that to me'. But they're my girls and I have to tell them.
Stooshe's new single, 'Slip', is released on 13 May. Their debut album follows on 27 May.

LIKE US ON FACEBOOK | FOLLOW US ON TWITTER