The International Monetary Fund (IMF) has stepped up pressure on Chancellor George Osborne to consider easing his austerity programme. David Lipton, the Fund's first deputy managing director, said the "pace of consolidation" should be reconsidered given the weakness of the UK economy. Osborne has come under increasing pressure from the IMF
In an interview with Sky News, Lipton said: "The Fund's view is clear: the UK economy has turned out to be somewhat weaker than had been foreseen, so our view is that the pace of consolidation ought to be reconsidered, and we'll want to come and have some discussions over that."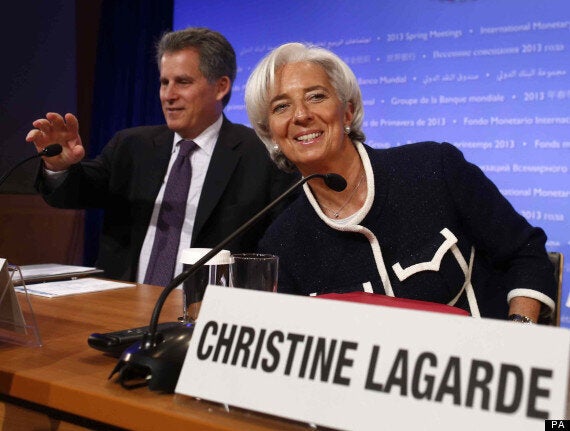 IMF managing director Christine Lagarde and deputy director David Lipton
Lipton stressed it was still "very important" that the UK Government maintained fiscal consolidation as a goal. But he added: "The question now is whether the pace is right or too ambitious given the weakness of the economy. "The key to us, the bottom line to us, is that they may want to consider adjusting the pace of consolidation." He said the subject would be discussed with the UK during the "Article IV consultation" - the annual health check on the economy.
Following the IMF's World Economic Outlook report on Tuesday, which called for Osborne to consider moving to an economic Plan B in the light of "lacklustre" private demand, Labour's shadow chancellor, Ed Balls, said it was "a serious mistake for George Osborne to totally ignore the calls for a reassessment of fiscal policy in the Budget".
"They are right to step up their warnings and insist that a change of economic policy is considered right now," he said. "Our economy has flatlined for two and a half years, real wages are falling month by month and the result is £245 billion more borrowing than planned to pay for this economic failure. How much more damage needs to be done before the chancellor finally acts? These downgraded growth forecasts are yet another damaging blow to a downgraded Chancellor whose economic policies have totally failed."
Popular in the Community