Double Olympic champion Mo Farah was running just half the London marathon in preparation for running a full marathon next year.
After dropping out at the 13.1 mile mark near Tower Bridge, Farah told the BBC: "It was incredible. The atmosphere is great.
"My aim was just to learn a lot here. Next year, I'm going to come out and do the full marathon."
Mo Farah attends the British atheletes photocall ahead of The the London Marathon at The Tower Hotel
The Olympic 5,000m and 10,000m gold medal winner had to run to get to the race on time this morning after he overslept.
Asked how he found the distance, he admitted: "I think the biggest challenge really is picking up the right drinks - I think I made a mess up."
Earlier on Sunday, the 30-year-old Londoner revealed he was running late live on the radio.
He shouted to a waiting BBC presenter: "Radio 5, gotta go! Gotta run, run, run, run!"
Asked how he was feeling, he said as he ran down the street: "Yeah, feeling good."
"I'm late! I woke up late! I'm going to miss the bus!" he laughed.
The Olympic 5,000m and 10,000m champion added: "It should be good weather as well, so I'm quite excited."
The build-up to Farah's participation in this year's London Marathon has been shrouded in controversy as he will be paid a reported £425,000 for taking part in the 2013 and 2014 events.
There has been talk of murky motives and money-grabbing, with critics of his plan to run to halfway, as practice for making his full 26.2 mile debut next year, accusing him of cashing in on his status and going against the spirit of the mass-participation event.
But Farah, who won the mini-marathon event three times in a row between 1998 and 2000 as a west London schoolboy, has said the race brings back plenty of happy memories.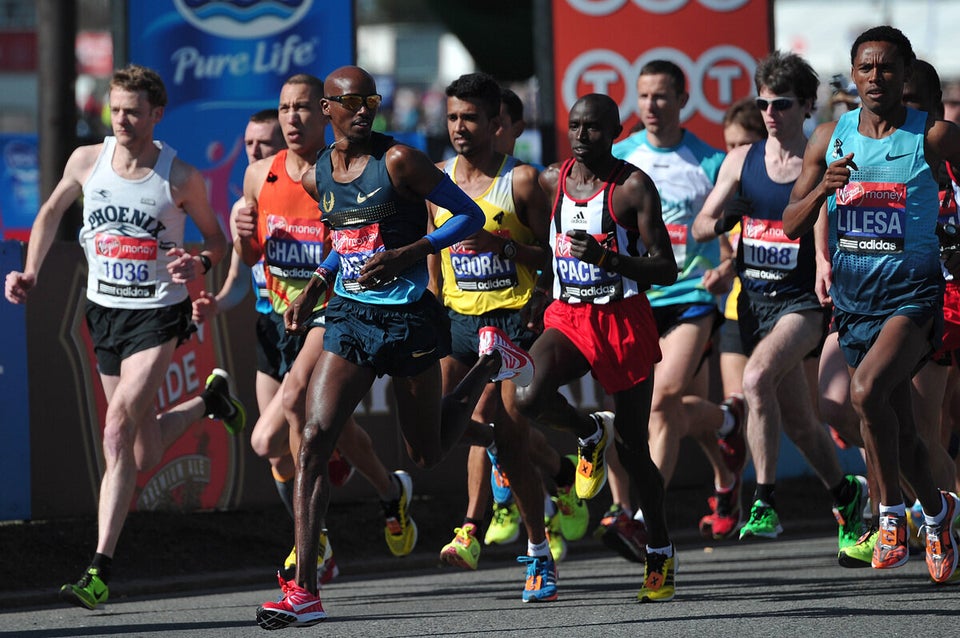 London Marathon 2013