The surviving suspect in the Boston Marathon bombings has been charged with using a weapon of mass destruction and could face the death penalty
Dzohkhar Tsarnaev was charged by police on Monday as he lay in his hospital bed. Still in a serious condition, he is unable to talk due to a throat injury sustained in the firefight that led to his capture although he has reportedly responded to questions in writing.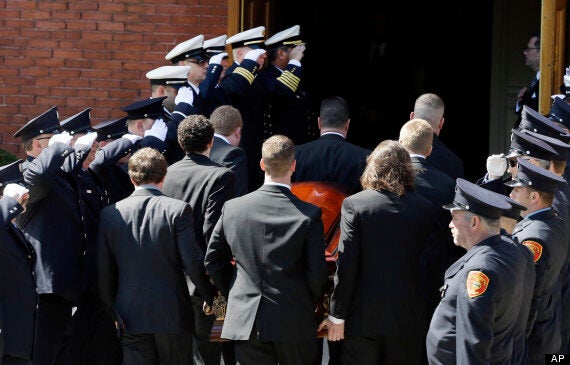 The funeral of Krystle Campbell
The 19-year-old has been charged with conspiring to use a weapon of mass destruction and one count of malicious destruction of property resulting in death, the Department of Justice said in a statement.
As well as the federal charges brought on Monday, prosecutors for the state of Massachusetts, which does not have the death penalty, could file their own.
Tsarnaev was captured on Friday after a huge manhunt during which his elder brother and suspected fellow
bomber, Tamerlan Tsarnaev, 26, died.
The White House confirmed Tsarnaev would not be tried as an "enemy combatant" as suggested by some Republicans.
Jay Carney, press secretary, said: "We will prosecute this terrorist through our civilian system of justice."
Meanwhile, the first funeral for the victims of the Boston Marathon bombings was held on Monday.
Krystle Campbell died along with Lu Lingzi, 23, and Martin Richard, eight, when the two bombs exploded near the finish line of the city's marathon last Monday.
Hundreds of people turned up for the 29-year-old's funeral with long queues forming outside St Joseph's Church in Krystle's home town of Medford.
The city of Boston also observed a moment of silence for the victims of the attack at 14:50 local time (18:50 GMT), exactly one week after the attack.