Broadchurch will return for a second series, ITV have confirmed.
ITV have been chuffed by the success of the series, which has gripped the country in the two months since it began airing, and seen audiences stay above seven million for its eight-week run.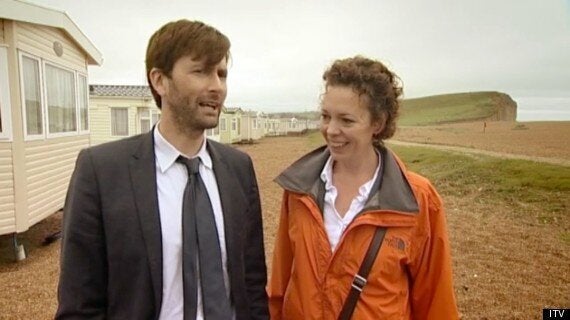 David Tennant and Olivia Colman have starred in the first hit series of 'Broadchurch'
The new series, due to go into production early next year, will be kept as tightly under wraps as this first one, which bosses ensured couldn't be leaked, by keeping preview tapes away from all but cast and crew. Many ITV execs, normally privy to plot spoilers, have been kept as much in the dark as normal telly watchers.
The first series featured a strong ensemble cast, including Jodie Whittaker, David Tennant, Olivia Colman, Arthur Darvill and Pauline Quirke, but it is unclear which characters will be returning for the second run.
Creator and writer Chris Chibnall said: "The whole Broadchurch team has been delighted and properly gobsmacked by the response from ITV viewers. When I first talked to Peter Fincham and Laura Mackie, ITV's Director of Drama about Broadchurch, I mentioned that if people liked it, there was another very different story we could tell afterwards. I'm really thrilled we're going to tell that story too."
"We're delighted to be commissioning a second series of Broadchurch," said ITV's Director of Television, Peter Fincham. "From the moment the murder scene was discovered, viewers became gripped by the series, and we've been genuinely thrilled by the audience response. David and Olivia's performances and Chris's cleverly crafted scripts have created a truly compelling drama."