Manchester United are champions of England for a 20th time after beating Aston Villa 3-0 in the Barclays Premier League.
Robin van Persie's hat-trick inside the opening 33 minutes sealed a 13th title of Sir Alex Ferguson's Old Trafford tenure - 20 years on from his first title win.
Van Persie opened the scoring inside two minutes from close range after Ryan Giggs' neat lay-off, but his second goal was as audacious as it was awesome.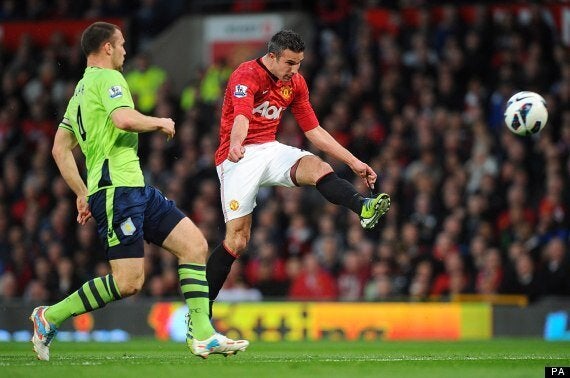 Van Persie scores his best goal yet for United against Villa
Wayne Rooney pinged a visionary ball from inside the centre circle which Van Persie ran on to, hitting an exceptional volley first time from 20 yards out into the corner of Brad Guzan's net.
A day after Luis Suárez butchered his reputation again, taking with it his hopes for individual awards, Van Persie re-emerged as the frontrunner for player of the year and usurped the Uruguayan in the Barclays Premier League scoring chants when he clinched his hat-trick. Again Giggs assisted him, again Van Persie finished from inside the six-yard box.
United meandered through the second 45 but they could afford to against the inexperienced Villans. This time 20 years ago, the club had gone over a quarter of a century without a title and trailed Liverpool 18-7 in the English championship stakes.