'Sherlock' bosses have hinted that a wedding could be on the cards in the third series.
Producer of the hit show Sue Vertue tweeted a photo of a wedding place setting marked "Sherlock Holmes" and captioned: "Lovely day for a wedding #sherlock."
The photo will further fuel rumours about what the new series will involve after hints from the writers that someone is getting hitched.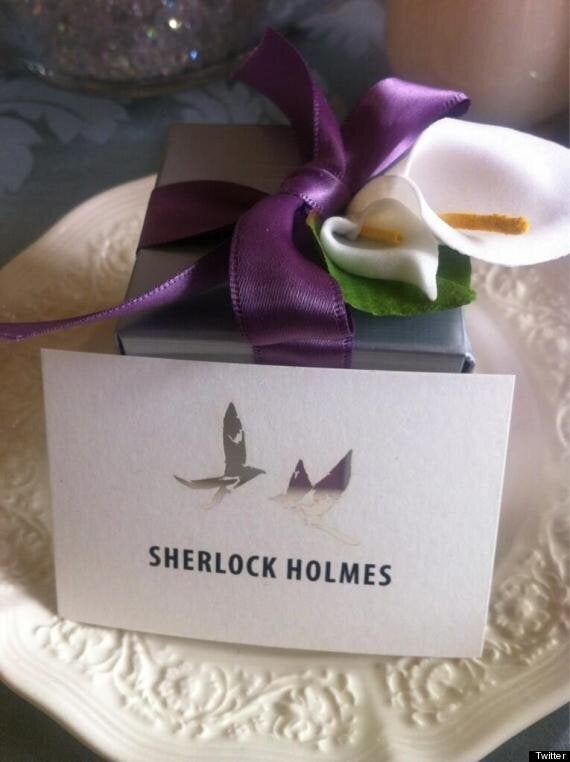 'Sherlock' creators Stephen Moffat and Mark Gatiss recently released three teaser words for the series that is currently filming - "wedding", "rat" and "bow".
It's also recently been confirmed that Martin Freeman's wife Amanda Abbington has joined the Sherlock cast.
Hobbit star Martin plays Sherlock's (Benedict Cumberbatch) sidekick John Watson and it's thought Amanda may play Watson's future wife Mary Morstan.
Producer Sue recently pleaded with the show's fans in an open letter on a fan site not to post pictures, spoilers or set locations for filming online.
Episode two of the third series, titled 'The Sign Of Three', began filming today (April 22) so today's tweet suggests a wedding could be in this episode.
The BBC are expected to air 'Sherlock' series three at the end of this year or the beginning of 2014, with a fourth series starring the same cast thought to be commissioned already.
TV illusionist Derren Brown was recently spotted filming scenes for the show with Martin at the site where Benedict's Sherlock appeared to fall to his death at the end of series two.
Popular in the Community