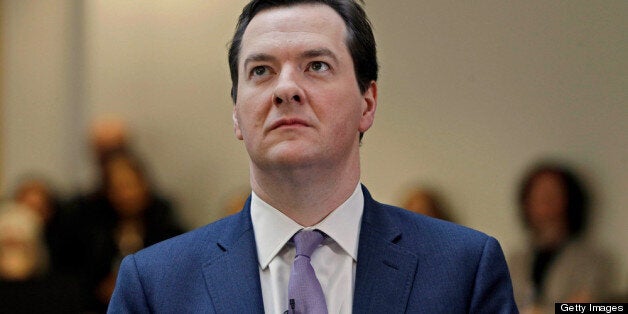 Almost half the British public expect to be worse off by the time of the next election in 2015 than they are now a survey has revealed, as George Osborne awaits the latest GDP figures that could show the UK has tipped into an unprecedented triple-dip recession.
Polling carried out by YouGov for the Resolution Foundation think-tank found that 46% people think living standards will fall over the next two years.
Worryingly for the chancellor only one in five, or 19%, think their standard of living will improve while just over one in four (28%) expect no change.
The survey showed that a majority of the public, 53%, also felt their living standards had fallen since the coalition got its hand on the economic levers of power in 2010. Just 14% said things had improved while 30% said their standard of living has remained about the same.
On Thursday the Office for National Statistics will publish the GDP figures for the first quarter of 2013. The last set of figures, for the fourth quarter of 2012, showed UK economy shrank.
A recession is defined by two consecutive quarters of negative growth. If tomorrow's figures also show falling GDP it will be the third recession since 2008 - an embarrassing triple-dip.
Most analysts are predicting that Osborne will dodge this, and expect growth to edge up by a tiny, but doomsday headline avoiding, 0.1%.
However Gavin Kelly, chief executive of the Resolution Foundation, said there was a "gloomy mood" among large parts of the electorate and that no matter what the figures show people will see the economy as stagnant.
"This poll shows us that as things stand many people are down-beat about how long it will take the economy to fully recover," he said. "How this pessimism plays out in terms of party support will play a key role in determining the next election."
Despite the public pessimism, there was some relief for Osborne yesterday after official figures showed public sector borrowing came in at £120.6bn in 2012-13, £300m lower than in 2011-12.
Labour said the slight decrease was far from good news and borrowing was "essentially the same last year".
Shadow Treasury minister Chris Leslie said: "The lack of economic growth means the government is now set to borrow £245 billion more than planned simply to pay for the costs of their economic failure. George Osborne no longer has a deficit reduction plan. In fact, at this rate, it will take 400 years to balance the books."
Related