The arts world has to stress its "economic impact" if it is to come through the next round of government cuts successfully, Culture Secretary Maria Miller will warn in a speech later.
The Cabinet minister, who took over from Jeremy Hunt at the Department for Culture, Media and Sport in last year's reshuffle, is expected to say the Government is "committed to a mixed economy model" that includes public and private funding for the arts.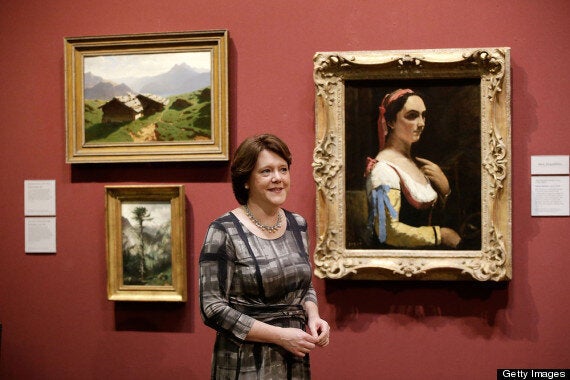 Maria Miller in front of 'L'Italienne ou La Femme a la Manche Jaune' by French artist Jean-Baptiste Camille Corot at the National Gallery
Speaking at the British Museum in central London, Miller is expected to say: "I want to make it clear here, today, that I am fighting your corner as hard as I can within Government.
"But for honesty's sake we must be clear about the grounds on which this argument must be had and the points that will get traction, not in the press, but with my colleagues - and with the country at large.
"It is with this at the fore of my mind that I come to you today and ask you to help me reframe the argument: to hammer home the value of culture to our economy.
"I know this will not be to everyone's taste but in an age of austerity, when times are tough and money is tight, our focus must be on culture's economic impact."
She is expected to tell an invited audience that arts organisations should "demonstrate the healthy dividends that our investment continues to pay".
Miller will also say the arts have a central role to play "in cultural diplomacy" and the development of "soft power" and tell her audience the world thinks British culture is "a commodity worth buying into".
It emerged last month that most Government departments have been told to prepare for cuts to their budgets of around 10%.
Schools, the NHS and international aid will continue to remain protected but most other funding is expected to be slashed in 2015/16, Government sources confirmed.
Treasury Chief Secretary Danny Alexander has written to each department setting out "planning assumptions" ahead of the Comprehensive Spending Review, which is due before the end of June.
To meet the £11.5 billion savings target most departments have been warned to expect a 10% funding reduction.
That gives the Treasury some wriggle room for finalising cuts that are likely to amount to around 8-9% once negotiations have been finalised.