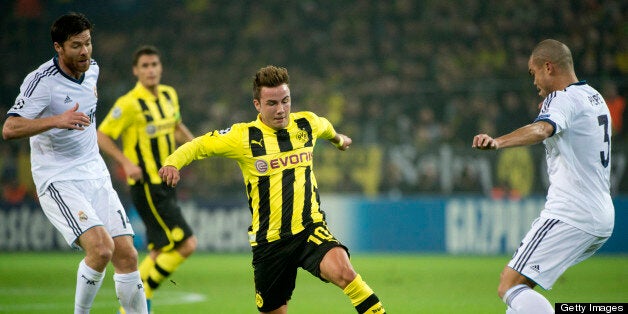 It got so bad that Borussia Dormund had to call the police to the training ground, his brother has apparently been abused at school, shirts have been torn and spleens have been vented. Tonight the continent will wait and watch to see what kind of a greeting Mario Götze will generate at the Westfalenstadion as Borussia Dortmund play out their biggest game in years against Real Madrid in the semi-finals of the Champions League.
On Monday night, while English football fans were concerned with watching or avoiding Manchester United's 20th title celebrations, German tabloid Bild published their midnight scoop that Götze would leave Dortmund for Bayern Munich, who had triggered his €37m release clause.
Götze signed a new contract last summer but it was always a stay of execution and an insurance policy for Borussia to earn a fat cheque. That Götze, like another non-Bavarian Germany international Manuel Neuer, wanted to join Bayern and have the chance to play under Pep Guardiola, was not a surprise, but the timing of it was. Dortmund coach Jürgen Klopp knew of the transfer a day after BVB's sensational Champions League win against Málaga, only for the grand reveal to come a fortnight later, conveniently enough a day after it was revealed Bayern president Uli Hoeneß reported himself to police for tax evasion. Bayern's evisceration of Barcelona was timed impeccably for Hoeneß, too.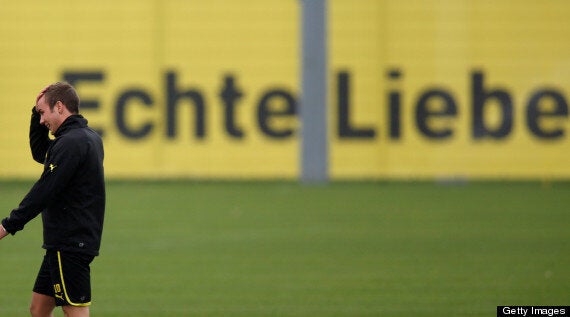 Götze could play just six more times for Borussia
The imminent departure of Götze prolongs the dismantling of Klopp's exuberant side. Shinji Kagawa was lost to Manchester United last year, while it is feasible Robert Lewandowski and Mats Hummels could follow Götze away from the Ruhr this summer. Bayern have twice the budget of any other Bundesliga side and Klopp, who guided Dortmund to back-to-back league wins, will have to return to the club's enviable youth system to re-build.
That process must wait until after the club's first Champions League semi since 1998. Fifteen years ago, they were holders but Ottmar Hitzfeld had bid farewell and under Nevio Scala they fell short against Jupp Heynckes' Madrid.
Tonight's tie evokes nostalgia for both clubs. Dortmund will recall a time when they were the champions of Europe while Madrid's victory over the Bundesland team paved the way for the club to win their first European Cup in 32 years. It was their first of three wins in four years.
José Mourinho was keen not to pile on the misery for Klopp when asked about Götze, who had been predictably linked with a switch to the Bernabéu.
"I don't know Mario Götze, I don't know the mentality or culture of the fans of Dortmund and I don't know what the players will be thinking," Mourinho said. "So I don't know if it will have positive or negative consequences, or no consequences at all."
Klopp, meanwhile, made a direct plea to the unrestful supporters "to give us the support we need" when they entertain Madrid.
Dortmund's success under Klopp has been built on genuine harmony, which is why the timing and location of Götze's next career move has shaken the club. Players regularly celebrate goals with Klopp, who admitted earlier this year Kagawa sobbed in his arms ahead of his transfer to United, and his father-figure status is a major selling point for future employers.
Reflecting on when he discovered Götze would leave, Klopp said: "I had one day's happiness. Now it has been released. Now." He was still his usual charismatic self when he teased an Argentine journalist for their ostentatious voice, and even cited Dortmund's pre-contract agreement to sign Marco Reus from Borussia Mönchengladbach last year for balance. "They weren't happy either," he added.
Whether Dortmund reach Wembley, Götze will dominate the analyses, irrespective of how he or Madrid perform. Dortmund have not experienced such upset since the club's notorious debt issues last decade and Klopp, who took charge in 2008, rejuvenated not just the team, but the club as well in the aftermath of financial uncertainty.
Yet he must now contend with the spectrum of Bayern, who could return to poach Lewandowski as well. As well as Madrid.