Police searching for missing Brown University student Sunil Tripathi have located a body.
A man's body was pulled from Boston's Providence River on Tuesday.
Providence police Lieutenant Joseph Donnelly told the Boston Globe: "It's very, very possible" that the body could be Tripathi.
But he added authorities will not know for sure until the medical examiner's office in Providence identifies the body on Wednesday morning.
Tripathi was last seen on March 16 near his home close to the university's campus, WUSA 9 reported.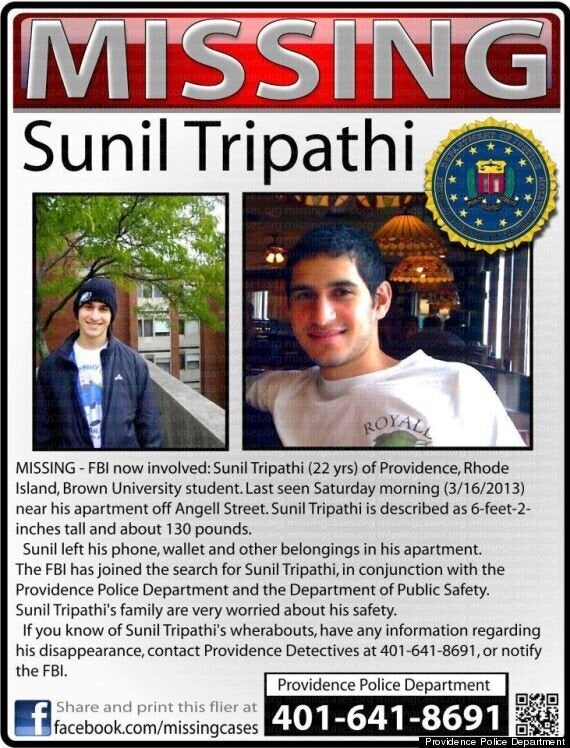 Amid the confusion of the Boston bombings last week, Tripathi was misidentified on internet forum Reddit as the suspect who has now been properly identified as Dzhokhar Tsarnev.
Tripathi became the focus of speculation after the crowdsourcing users of Reddit identified him as the "white hat" suspect.
There were also reports on Twitter that Tripathi's name was being used by police on police scanners.
The moderator of the "FindBostonBombers" subreddit later put out a statement, apologising for the misidentification:
I'd like to extend the deepest apologies to the family of Sunil Tripathi for any part we may have had in relaying what has turned out to be faulty information. We cannot begin to know what you're going through and for that we are truly sorry. Several users, twitter users, and other sources had heard him identified as the suspect and believed it to be confirmed. We were mistaken.

This event shows exactly why the no personal information until confirmation rule is in place. Out of respect for Tripathi and his family, I ask that users here please remove any and all links about him. Thank you.